Product Availability
| | | | | |
| --- | --- | --- | --- | --- |
| UserVoice Discovery | | | UserVoice Validation | |
Activity by Source & Team
This is a view of your ideas, votes, comments, and contributor feedback by source. That is, how and where users are engaged.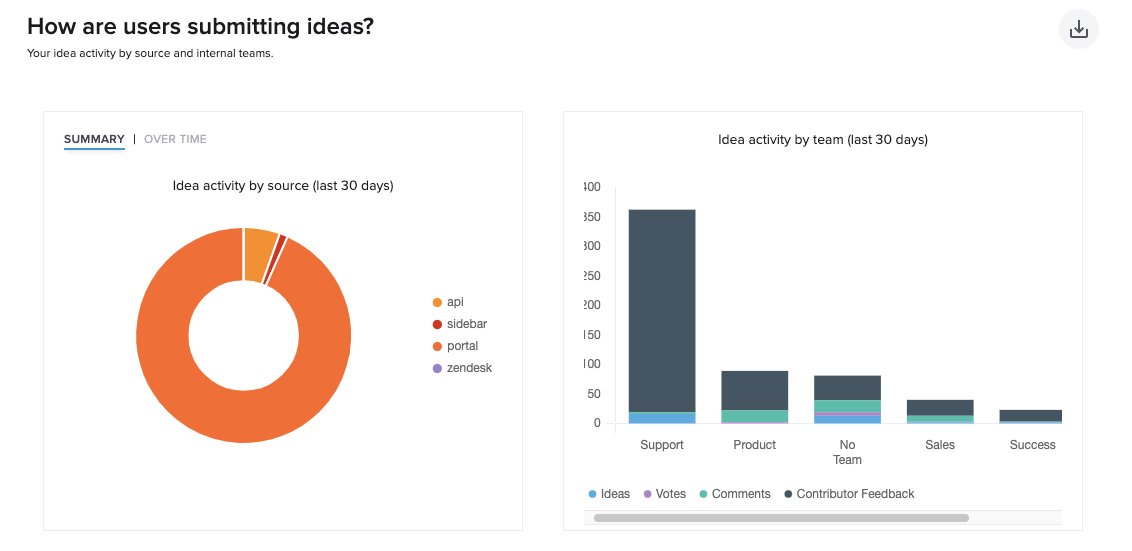 Why it matters: Are your users making use of the variety of feedback channels you're offering? Now that you have context into how much engagement your feedback program receives, you can use the activity by source report to understand which feedback sources are capturing the most feedback. You can also use this report to see how much feedback internal teams are sharing and what channels they're sharing it through.
About the data:
The donut chart represents where idea activity is coming from. This can include the portal, the contributor sidebar, the Post Idea widget, or any other integrations you have configured.
The bar graph represents idea activity by teams. Learn more about setting up teams here.

X-axis is the feedback channel
Y-axis is the count of activities

Ideas are all ideas created by a member of a Team.
Votes increment when team members add their vote to an idea, either via the Web Portal or Contributor Console.
Comments are counted when a team member creates a public comment on the Web Portal.
Contributor Feedback increments when a team member captures feedback on behalf of someone else.