This is available in UserVoice Discovery.

Not included in your plan? Want to learn more about the benefits? Leave us a message! If you're viewing this on our Help Center, click the Support bubble in the lower-right of this page.
In this article, we are going to cover:
An overview of UserVoice Discovery from a high level
The key ways to use UserVoice Discovery
Point you to next step resources for setting up and getting the most out of your UserVoice account
Let's get started!
What Does UserVoice Discovery Do?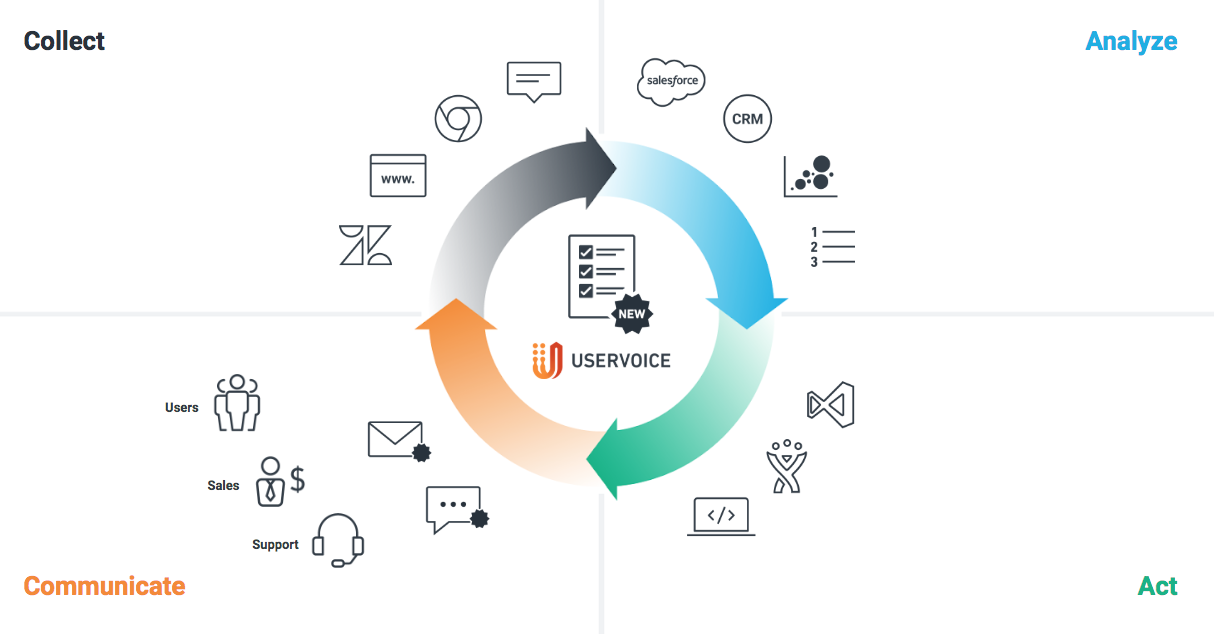 We enable Product Managers and teams to hear from their customers or prospects either directly or through internal teams so they can build features that impact acquiring new customers or keeping existing customers happy.
Collect feedback across your customer base from end users directly, and through your sales, support and internal teams who talk with customers every day.
Analyze your feedback by pulling in end-user data like MRR/Revenue or lost opportunities, gathering aggregate data by allowing users to vote on one another's ideas and seeing feedback that is trending over time.
Act on feedback through JIRA and VSO integrations so you can communicate the customer context to your engineering teams, and they can in turn communicate statuses effortlessly back to your product team.
Communicate throughout, so you can keep end-users and internal teams up to date as you work on initiatives or receive their feedback. This ensures they feel heard, and know when you implement functionality they want.
How We Do It
In UserVoice, there are three different types of feedback, and we are going to walk through each, and how they work together to help you collect, analyze and act on your feedback.

Pieces of Feedback:
This is a single piece of feedback from a user about your product that is only visible to admins on your account.
Example: "I want to make labels that are red and green so my team can quickly know what's confirmed and what's outstanding with a single glance."
Source: Come directly from the end user or is captured by an internal team like Support, Sales or Success.
Data Enrichment: Pass user and account data on your users to UserVoice, so you have context on who is giving you the feedback.
Ideas
Ideas can be created by admins or end-users and are a votable piece of feedback on a forum that other users can support, comment on and subscribe to. Often, multiple pieces of raw feedback are connected to a single idea.
Example: "Add color options to label settings.'
Source: This might be created by an internal team on behalf of users, but are often created by end-users directly on forums.
Data Enrichment:
Users voting on each other's ideas allows you see which rise to the top with your customer base.
Comments on ideas give you additional context on the idea and how users are thinking about it.
User and account fields are also invaluable here for understanding who is supporting the idea.
Features (initiatives)
This is where your PM's outline initiatives they are considering for your Product Roadmap. They will be connecting multiple ideas and raw feedback to a single Feature.
Example: "Color Picker for Labels"
Source: These are internal and only created by admins within UserVoice.
Data Enrichment: Scoring features, and segmenting users who have feedback connected to the idea gives PM's additional context and helps them discern signal from noise.
Next Steps
So we've walked through UserVoice from a high level, and now you are probably ready to dive in and figure out how you want each part to work for you and your company. Great news! We've got resources to help you with this.
Account Setup: Walks you through the basics of configuring your UserVoice account. A good place to start if you have a new account.
Collecting Feedback: How do you want to collect feedback, what are your options and the best fit for your use case? Check out this article for our recommendations and resources to get you started.