Product Availability
This is available in UserVoice Discovery Pro and Premium.

Not included in your plan? Want to learn more about the benefits? Leave us a message! If you're viewing this on our Help Center, click the Support bubble in the lower-right of this page.
Voters of ideas play a key role when it comes to determining what your Product Team should work on next. If your forum is public, you may have concerns about users trying to game the system.

Voter Fraud detection lets you decide how many users from a single IP can vote onan idea per hour. We'll walk you through how to manage this setting.
Click the icon in the bottom left-hand corner
Click the "General Settings"
Click "Ideas"
Scroll down to "Voter Fraud Detection" and click "Edit"
By default, the limit will be set to 5 voters from the same IP in a single hour, but you can edit that and make the limit higher (if you have a lot of users from the same company) or lower.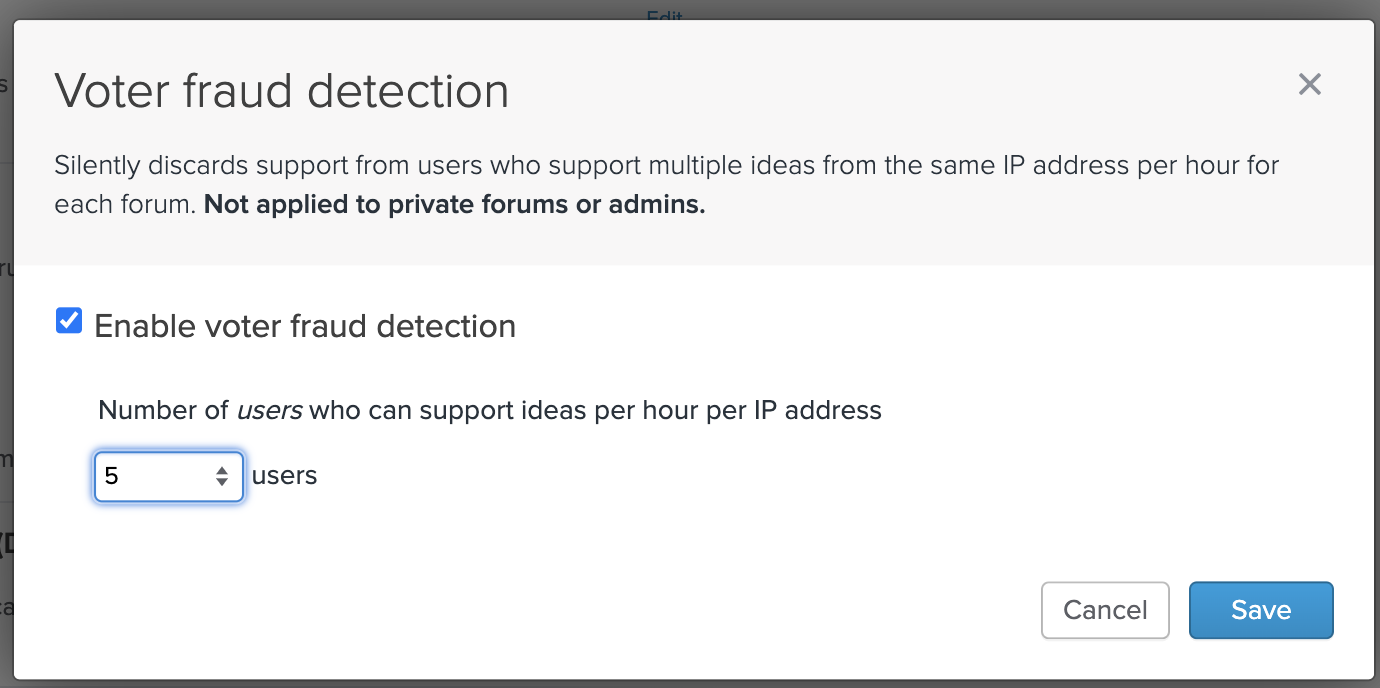 You also have the option to disable the feature altogether.
When the threshold has been met according to your voter fraud detection settings, the user will be flagged.
What happens when a user is flagged?
Voting on an Idea: they are allowed to vote but their vote is marked as spam and doesn't appear or contribute.

Existing Vote: Their vote will be removed from the idea, and they will no longer be shown or counted as a voter.

Comments and Ideas they Created: Content they created will be removed from public view.
Unflag a user
Admins can unflag a user by clicking the users icon in the left hand menu, searching and pulling up the specific user's profile and then clicking "unflag." This will restore their votes on existing ideas, allow their vote to be counted going forward and restore their ideas and comments.
Quick FAQs:
This limit is not applied to admins on your UserVoice account.
This limit is not applied to private forums. If your forums are private, then you are controlling which users have access and can support ideas. Learn more about private forums here.
If you are using our legacy voting feature, you do have this setting, but your options will be slightly different.