This is available in UserVoice Discovery Essentials, Pro and Premium.

Not included in your plan? Want to learn more about the benefits? Leave us a message! If you're viewing this on our Help Center, click the Support bubble in the lower-right of this page.
With the UserVoice Slack Integration, you can easily manage, create, search for, and share feedback directly within your workspace.
In this article, you will learn how to:
Manage feedback directly in Slack
As an admin, you can manage feedback directly in your Slack channel. Merge, Edit, Delete actions makes it easy to manage feedback directly from Slack.
Use the kebab menu (3 horizontal dots) to:
Add a vote
Edit the idea
Merge the idea
Delete the idea

*Note - if you do not have access to perform these actions, you will not have these options. Contact your UserVoice instance owner to add these permissions.
Easily send feedback from Slack to UserVoice
Whether from public channels where customers are providing feedback directly or channels where internal teams are talking about customer feedback. Now, any feedback existing in Slack can easily be sent to UserVoice.
To add a Slack message to UserVoice as feedback
Click the kebab menu (3 horizontal dots) to the right of any message in Slack for "More Actions"
Select "Send to UserVoice"

If you don't see this, select "More Message Actions" and scroll down to find "Send to UserVoice"

Next, in the "Customer's Feedback", edit the feedback if necessary and add in the Customer's email address. Note that it's important to use the correct customer email address as we attribute Feedback automatically to a particular Customer.

Lastly, you

have the option to link to an existing Idea. If you know Feedback has been submitted in the past, use this search to find and aggregate the Ideas.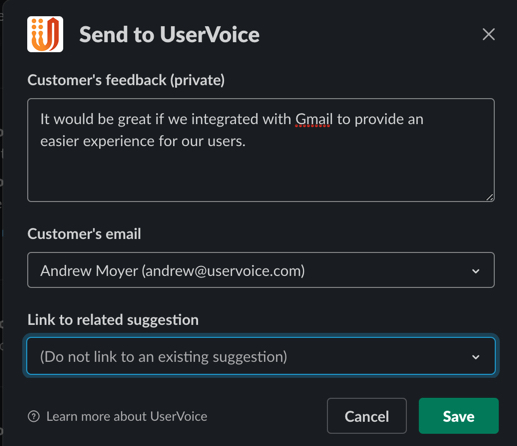 Unlinked Feedback
When feedback is captured from a Slack channel and is not linked to a related idea, you can find it in the admin console of UserVoice.
To see this feedback:
In the admin console (yourdomain.uservoice.com/admin), click on the lightbulb icon in the main navigation.
Select Activity & moderation.
Click "Needs suggestion".
The list you see will be Feedback that is not linked to an idea.
Click the link to suggestion and search for the idea that best fits the feedback.
Linking to a suggestion will add a vote from the requester.

You will also see the newly created Idea in your Slack channel. From here you can also "Link a New Idea".
Notifications of unlinked feedback will only be sent to Slack channels that are setup to receive events from all forums and categories.
Search UserVoice Ideas directly from Slack
With the UserVoice Search Slack command (/uservoice-search) easily search for existing Ideas from your UserVoice. From there, you can easily share those ideas with team members by posting it to a Slack channel. This is a great way for you or your team members to spark conversation around a particular piece of feedback or get quick reactions from team members.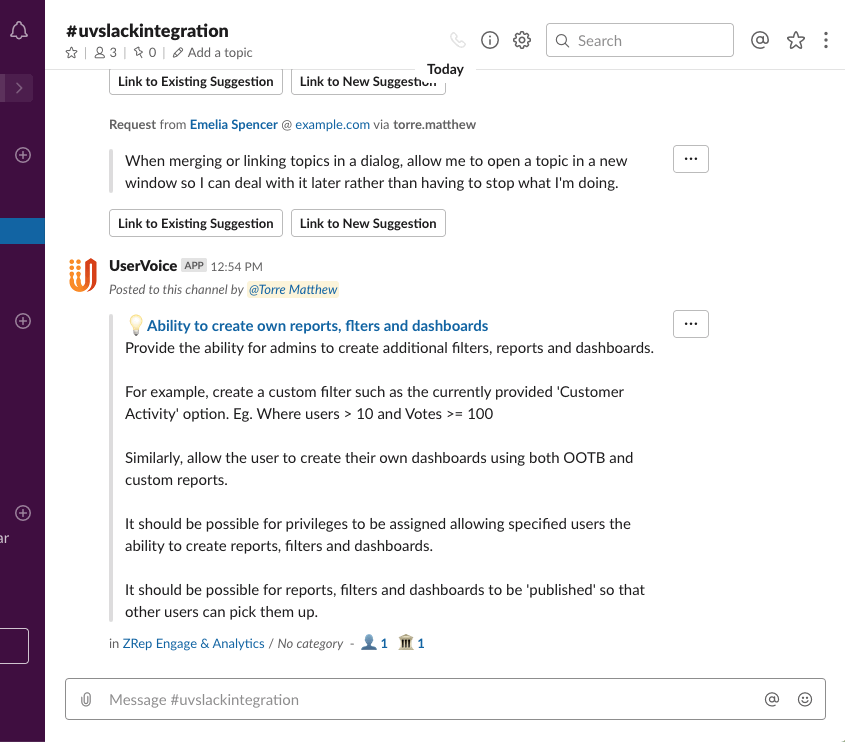 Note: Search will only work in the Slack channel in which you have integrated UserVoice. It will not work in other channels in your instance.
User Permissions
UserVoice Admins
Create and link a new Idea (to previously submitted feedback)
Link an existing Idea (to previously submitted feedback)
Change linked Idea
Edit Idea
Merge Idea
Delete Idea
Search for Idea (in connected Slack Channel)
Send to Channel
Add a Voter
Edit Comment
Delete Comment
Capture Feedback
Edit Feedback
Delete Feedback
Users (anyone who's not a UserVoice Admin)
Create and link a new Idea (to previously submitted feedback)
Link an existing Idea (to previously submitted feedback)
Change linked Idea
Search for Idea (in connected Slack Channel)
Send to Channel
Add a Voter
Capture Feedback