We're excited to share our latest release!
Contents:
Improved Slack integration
Bring the power of UserVoice even closer to where your internal team's communication is already happening.
We've enabled Slack to be another source of getting valuable product feedback into UserVoice. In doing that, we'll make it easier than ever to collaborate with colleagues about product feedback captured in UserVoice.
Click here to learn more about integrating with Slack.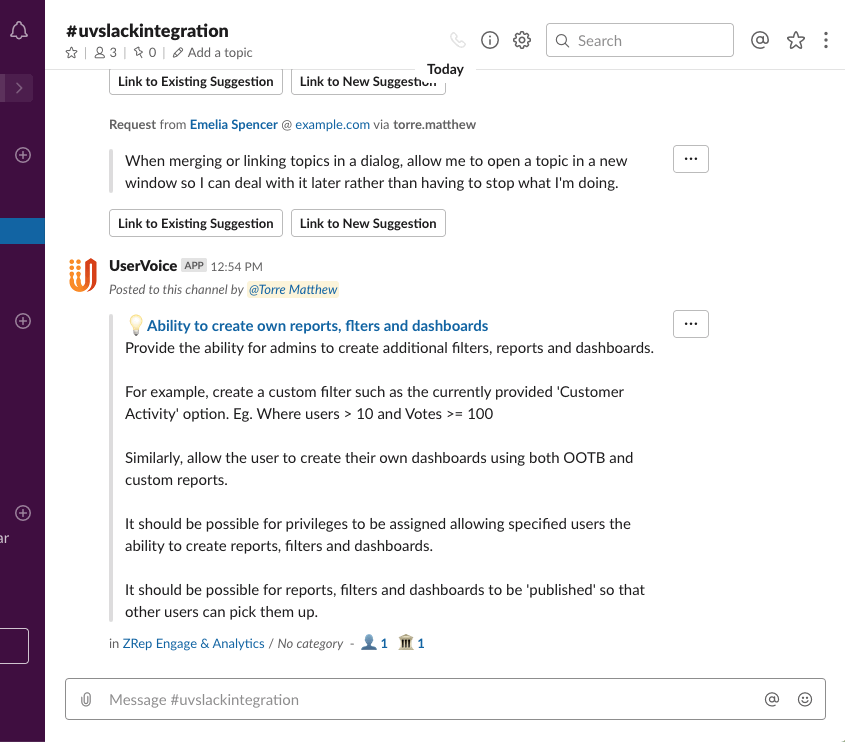 Insights Email
We've improved our digest email to be more informative and actionable. You decide how often you'd like to receive this email and what you'd like to see. Learn more here.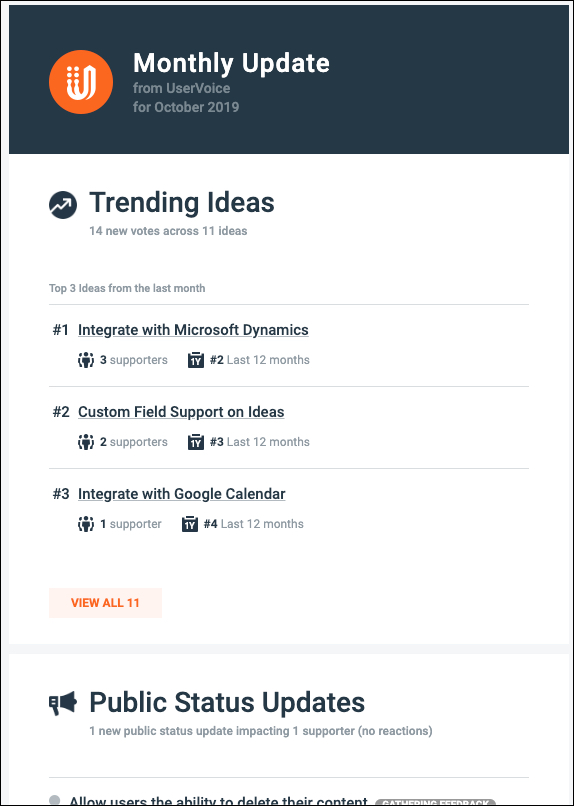 Terminology updates

To provide a more consistent experience, we've updated some terminology across the product.
"Suggestions" will become "Ideas."
Feedback captured by internal team members via the contributor sidebar will be referred to as "Feedback" across the application. These used to be called "Requests."
Voters who vote on ideas in the web portal, widget, or who have votes added to ideas on their behalf are now called "Voters" as opposed to "Supporters."

Filter by date & inactivity
In the grid view of ideas, you can now filter by a particular date range. This will allow you to see the feedback that has gained votes during a time period, such as immediately following a new release or update to your product. Use this to hone in on what your users are currently saying about your product.
In the idea grid, click All Time to select your date range. You will see ideas that have been voted on in this time range. Any other filters you have selected will be applied as well.
The data explained
When you use the date filter, we will update the following counts to correspond with activity during that time period. The Reach counts are specifically around support (votes). Activities such as creation date, status update date, etc do not impact the data.
Reach Columns

Users, Accounts, and Revenue columns are based on the votes from users who voted for that idea in your selected time period.

Activity

Comments and Notes columns display the count of these activities during your selected time period.

NPS
NPS score of voters of the idea during your selected time period.
Note: Salesforce Columns and Segment Columns are not currently supported.
You can also filter ideas that haven't gained any votes in the last 24 hours, 90 days, or 1 year. This can help you target ideas that have gotten stale and may need to be declined or archived.