This is available in UserVoice Discovery Essentials, Pro and Premium.

Not included in your plan? Want to learn more about the benefits? Leave us a message! If you're viewing this on our Help Center, click the Support bubble in the lower-right of this page.
Once you have some activity on your forums, there are a few things you can do to keep up the level of engagement.

Review Ideas Consistently
Depending on the volume of your feedback, set aside time in your day or week to review, comment, label and update ideas to make your users feel heard. A survey by MarketingLand found that more than half of customers will defect unless their feedback is recognized. Looking at feedback daily keeps you on track and gives users recognition in a timely manner.

Make a plan of who is responsible for reviewing feedback and decide your timeline for review. Hold yourself accountable and know that the better you are at staying on top of it, the easier it is to manage!

Create a saved view for ideas with no status or no comments to be reminded daily via email to log in to review new ideas!
Capturing Feedback
Not all feedback is directly submitted on your forum. Often your customer-facing teams like sales and support will receive feedback from users over the phone or via email. Don't rely on the users to go to the site to leave this feedback. Capture it for them using the Contributor Sidebar or the Capture Feedback feature within UserVoice.
The Contributor Sidebar is a bookmark that can be opened on top of a webpage or web app. Your team can use the Sidebar to capture customer feedback on the spot and also view existing feedback from a customer. Learn more about the Contributor Sidebar here.
*To use the Contributor Sidebar, your team members will need a Contributor license or a full-access admin license.
Within the UserVoice admin console, you can click the "plus" icon to capture customer feedback on the left-hand main menu. You can enter information that is internal only and also choose to subscribe (or not!) your end-user to the feedback for them to get updates.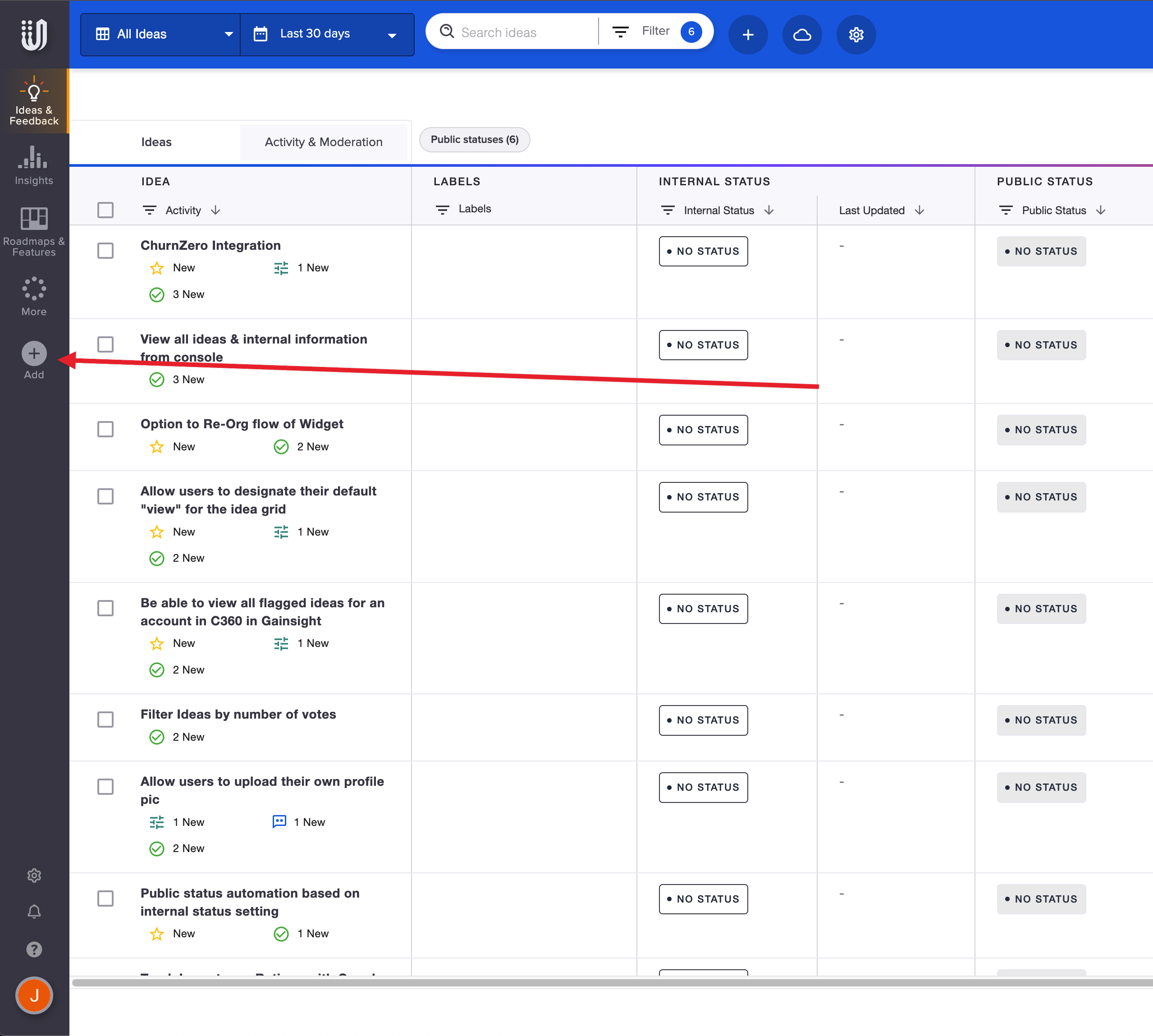 Updating Statuses
Updating the statuses of ideas is a key part of keeping users engaged and closing the loop. Users feel heard when there is a response to their ideas. They feel included in your product life cycle and are therefore more likely to continue to provide ideas.
We suggest always updating the status of an idea as you move forward to keep users in the loop and to help boost initial utilization and awareness as new features are released. We also recommend setting a threshold for any ideas with X number of supporters getting some type of status to let users know you are aware of those top ideas.
Also, make sure to let your users know when you are not planning to implement their ideas. Make sure that users are not kept in limbo by declining or rejecting ideas.
Two effective responses are:
This item is not on the roadmap at this time, but we will let you know if this changes
We understand the use case, but it is not a product priority at the time. Please take a look at our roadmap, located <here>!