Product Availability
This is available in UserVoice Discovery Pro and Premium as an add-on.

Not included in your plan? Want to learn more about the benefits? Leave us a message! If you're viewing this on our Help Center, click the Support bubble in the lower-right of this page.
What it does:
The user-generated content translation feature will allow your users to view the ideas and comments of others in their preferred language.

How it works:
Once enabled, users will be able to click on the translation widget, located on the right-hand side of the screen, and select their preferred language. From there, they can toggle on/off the translation for that language. Feel free to visit UserVoice's Feedback site to see this in action.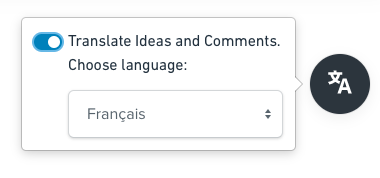 Benefits:
Users across a large international customer base can now engage with each other directly in a single forum. Additionally, as an admin, you're able to get a consolidated view of vote counts on the feedback your customers leave, rather than having to manage multiple duplicates across many languages.
Current limitations:
Translation of user-generated content is only available in the Web Portal and is not translated when viewed directly in the Admin Console. To translate this content, we recommend searching for it in the Web Portal or using Google Translate. 'Translate this Page' works well.
Additionally, this functionality does not translate UserVoice navigational text or admin-defined text such as welcome text, etc. If you would like to learn more about translating this additional text, please view our article on Language Settings.
Lastly, when searching for ideas on the web portal, the items returned will match the search query prior to translation. If entering a search query in your preferred language, this will return only results that match this query in that language prior to translation.
How to enable:
This functionality is available to all customers for an additional fee. If you'd like to learn more about adding this functionality to your account, please contact your Customer Success Manager directly or reach out to our support team by clicking "Support" in the bottom-right corner of your window.