This is available in UserVoice Discovery. Your side navigation appearance will vary depending on which UV Discovery plan you're on.

See something you like that's not included in your plan? Want to learn more about the benefits? Leave us a message! If you're viewing this on our Help Center, click the Support bubble in the lower-right of this page.
We've updated our main navigation experience for our customers when using the admin console. This is a part of our ongoing efforts to simplify and improve our customers' experience with our product.
Here's what's new
We've introduced secondary navigation to facilitate quicker access to key areas of the app. With that, we've reorganized a few things.
Ideas & Feedback
The idea grid, activity and moderation, all forums, saved views, flagged ideas grid, and labels can be quickly accessed from the secondary navigation under the Ideas and Feedback nav item.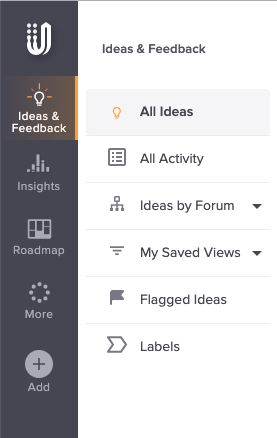 Views are now accessed via General Properties from the

found on the main idea grid.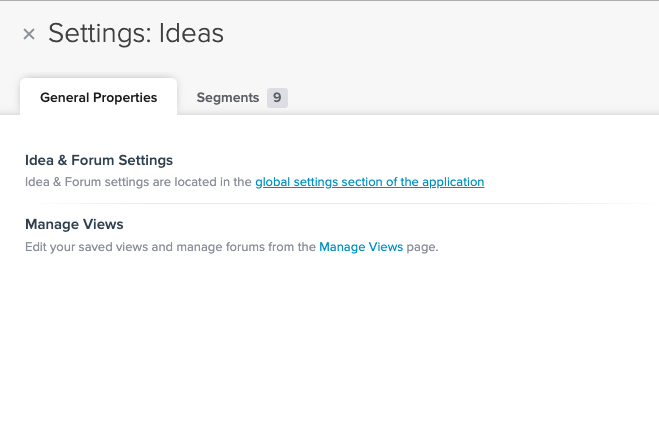 Insights
All reporting and insights will be available in the Insights nav item.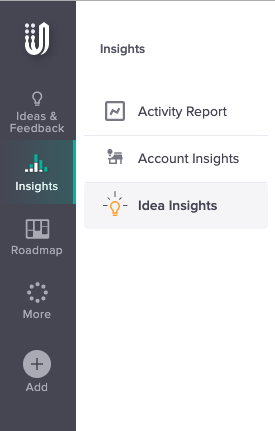 More
We've introduced a new, More, item to the main navigation. Here you'll access additional features of the application that were previously a part of the main nav. Namely, NPS and Users/Accounts grid.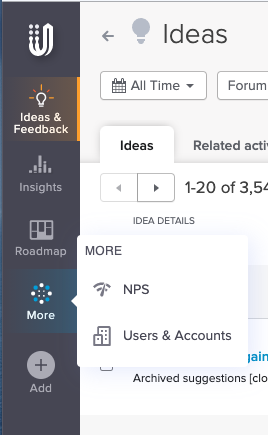 Site Settings and My User Profile Settings
Previously, site settings and your user profile settings were accessed from the same place -- your avatar. Now, we've moved site settings to it's own location, the gear icon on the main nav, and we're reserving your avatar for user profile settings management.
Site settings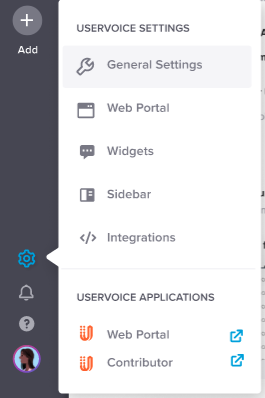 User Profile Settings