This is available in UserVoice Discovery Pro and Premium, and UserVoice Validation.

Not included in your plan? Want to learn more about the benefits? Leave us a message! If you're viewing this on our Help Center, click the Support bubble in the lower-right of this page.
So you're a new admin to the UserVoice Discovery platform - Welcome!
This article will provide a general overview of the functionalities of UserVoice for new admins during their onboarding period. We have provided suggested frequencies of use for each functionality that will help you in your workflow.
Tip : We have linked several articles throughout for you to learn about each feature.
Idea Insights
Let's first start to learn what your customers are saying about your product. When you first log into the admin console, you will be greeted with the Idea Insights dashboard. Using the recent idea activity, "This just In!", "Trending ideas" and "Most chatty" will help you get quick visibility on what's new and popular in the last 30 days.
View this article to learn more about the Idea's Insights dashboard.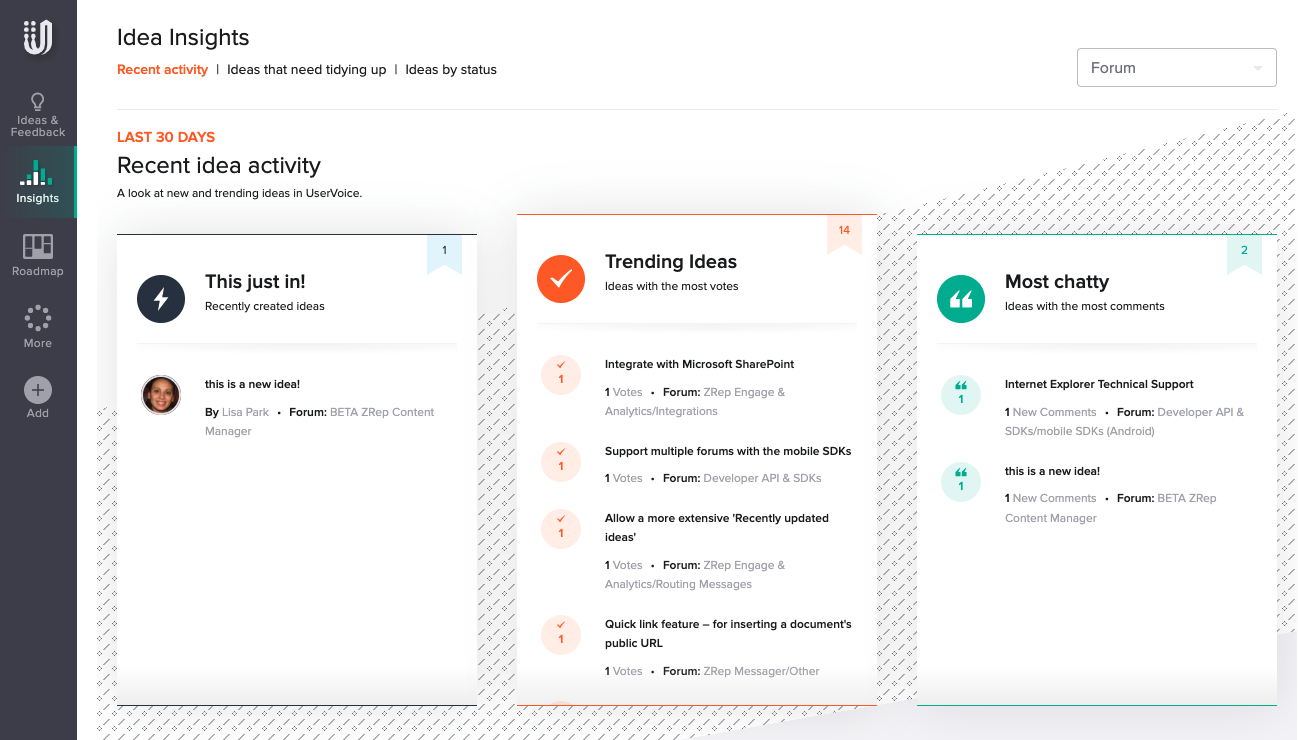 Suggested Frequency: Weekly
After learning and reviewing what your customers are interested in, start to incorporate UserVoice into your workflows with our provided features. We will discuss these topics next.
Prioritization
Once you understand what your users are asking for, it is time to start prioritizing what ideas will turn into new product features or enhancements.
Suggested Frequency: In alignment with your development cycle (or quarterly at a minimum)
Pro tip: It is helpful to get alignment on your company's overall product strategy and any upcoming development themes so that you can focus on the ideas that support the selected theme(s).



Communicating with Customers (Pro & Premium plans)
Suggested Frequency: Monthly

Informing Internal Teams
Suggested Frequency: Monthly
Housekeeping
Suggested Frequency: Bi-Weekly