This is available in UserVoice Discovery Pro and Premium.

Not included in your plan? Want to learn more about the benefits? Leave us a message! If you're viewing this on our Help Center, click the Support bubble in the lower-right of this page.
When evaluating ideas or after deciding to implement one, you may need to follow up with users, get additional feedback or share design mockups.
When you email supporters, you can quickly reach out to all supporters on an idea, share files and get their replies back into UserVoice, so you keep all feedback related to an idea you're considering in one place.
This communication feature is private, so users will receive your email in their inboxes, and their replies will only be visible to admins in UserVoice.
Get Started
Click Ideas & Feedback in the left-hand menu
Click into All Ideas
Locate and view the idea you want to message supporters on.
On the right, you will see four activity icons -- select the mail icon.
Click Email Subscribers to get started!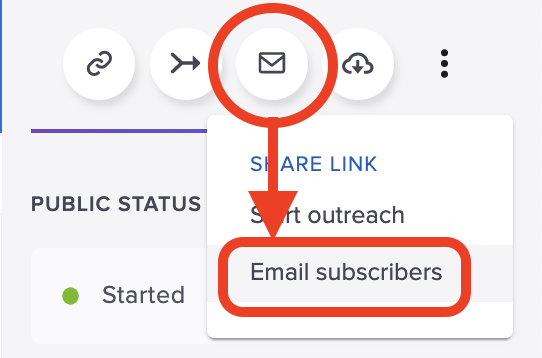 Composing your Email
Customize the Subject: We will fill in a default subject [your subdomain] [Idea title], but you can edit that to whatever subject you would like.
Compose your Message: Enter your message, like you would for any email. The email is plain text.
Add an attachment: You can add attachments up to 5MB each.
Email me a copy of each reply: This is if you want a copy of users responses in your email inbox as well. This can be useful if you know you want to have more dialogue with users who write back.

Click

"Send Message"


What Users Will See
When users get the message, they will also see a reference at the bottom with a link to the idea. This way they see your message and quickly understand the context.
The email will show as from your admin username, and the email address will be a unique email so the user can respond and that reply will be stored in UserVoice.


When Users Respond
When supporters respond, those replies will go back into UserVoice and be stored on the message. This lets you quickly reference not just the message you sent, but all users replies in UserVoice.
If you checked "email me a copy of each reply," you will also get a copy of the email at your admin email address.
Common Questions
Q: What file types can I attach?
A: The following file types are currently allowed: .png, .jpg, .gif, .tif, .bmp, .txt, .csv, .xlsx, .pptx, .docx, .pdf, .mp4, .mov, .xd
Q: Can I send the email to a segment of the subscribers?
Q: What happens if a supporter is not subscribed to updates?
A: If a supporter is not subscribed to updates on the idea, they will not receive the email. They do have to be subscribed.
Q: Can I subscribe or unsubscribe a user to updates?
A: For those with captured feedback, you can. Otherwise, if they vote themselves, it is a user's responsibility to mitigate their subscription status. In the admin console, go to the user's feedback on an idea, click edit, and select or un-select the box next to "Subscribe user to future status updates".
Q: Will Contributors or Admins who have captured feedback on the idea get the email?
A: Only users who support the idea get the email. Now, if a Contributor voted for the idea on the web portal, they would get the email because they are also a supporter.
However, if you are a subscriber and are sending the email, you will not receive a copy.
An admin who has opted to receive updates on all ideas would also get the email because of their account notifications.