This is available in UserVoice Discovery Pro and Premium.

Not included in your plan? Want to learn more about the benefits? Leave us a message! If you're viewing this on our Help Center, click the Support bubble in the lower-right of this page.
Are you looking to get more granular feedback about a specific idea? And want to expand your query to include users who are not already subscribed to that idea? Start an Outreach Campaign! With Outreach, you can send an email directly from UserVoice to any of your customers inviting them to share their feedback on an idea you would like more information on.
1. Start an Outreach

Select an idea, then click "Start Outreach" on the right-hand side.
2. Add Participants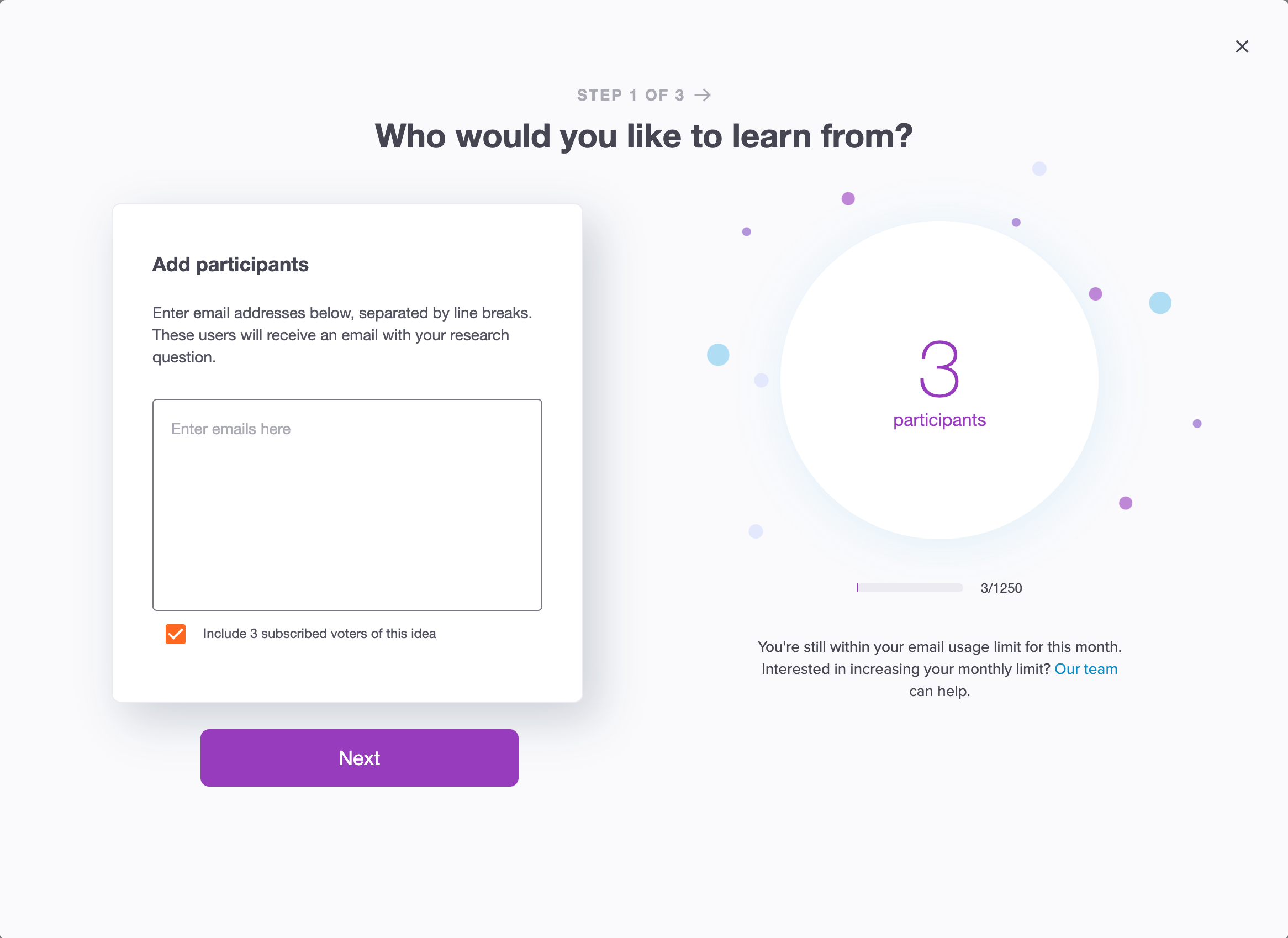 Type in emails individually, or copy in a group of emails by a comma separated list in the space below, then click enter.
These users do not have to be an end-user or members of the private forum to participate.
You can choose to include the subscribed voters on the idea, but ideally you are reaching out to customers who are not active on this idea to receive their feedback.
An alternative way to communicate with just subscribed voters of large amounts is by the
Emailing All Subscribers on an Idea
option. This option is still asking for users to provide feedback, while being able to send unlimited emails to users each month.
Based upon your plan, you have a limited amount of emails you can send out for the month. Contact our
Sales Team
if you are interested in increasing your monthly limit.
3. Create your Custom Question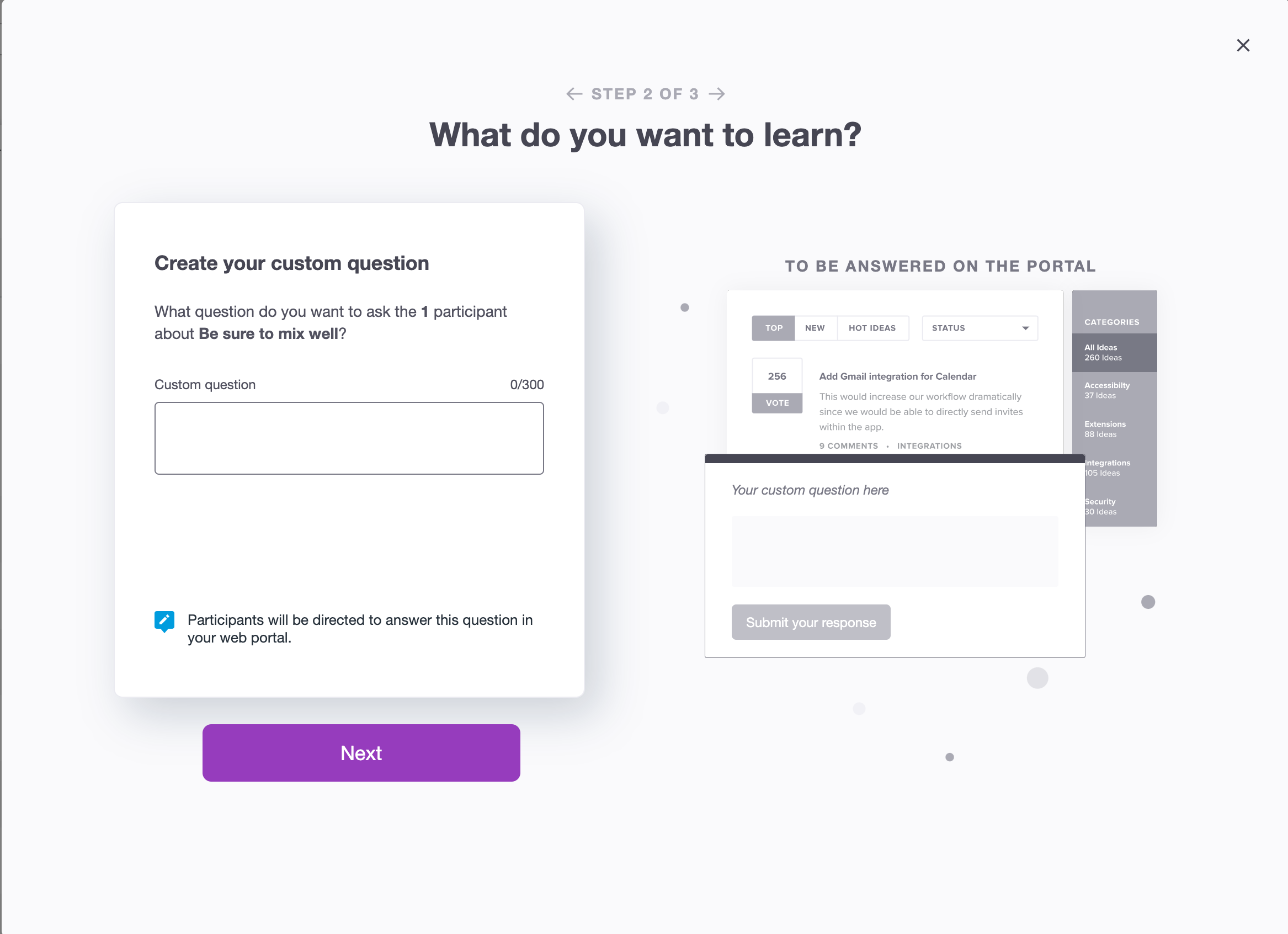 Within the 300 character limit, create a question to send to your customers for them to respond to in the web portal in relation to a specific idea.
4. Customize Email Prior to Sending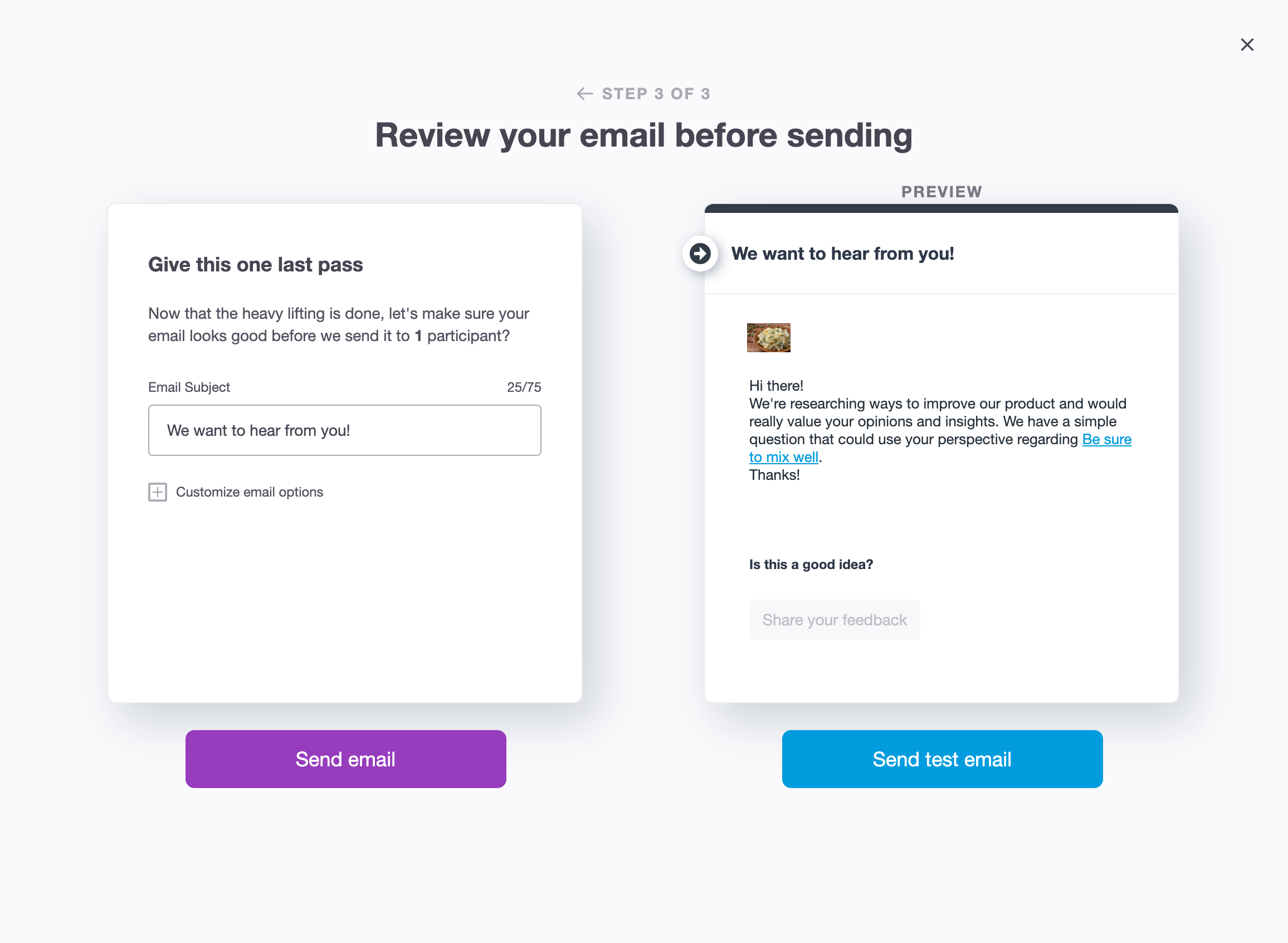 Use the default text or update the Subject line and Body to what best fits your company. It's default is to be sent from your subdomain's no-reply address, but if you have
DKIM
set up, you have the option to send from this address. The reply-to address is automatically set as your subdomain's no-reply address, as the intention is for your customer's to respond via the Outreach.
5. Send Email
Send the email to yourself to test how it appears by clicking "Send test email", or click "Send email". If you make a mistake, you have the ability to cancel the Outreach within the first 5 minutes by clicking "Cancel Outreach".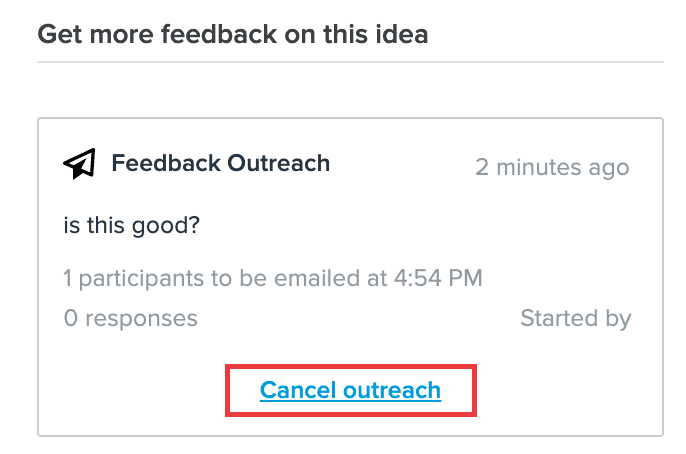 6. Finalizing
Responses to the Outreach will show on the Idea's Activity. View feedback specifically from the Outreach by clicking "X responses" in the Outreach box. Once finished with the Outreach, click "Finish Outreach". Users will no longer be able to interact with the link sent in the email to be directed to share their feedback.
FAQ
Q: Can we send Outreaches to non end-users?
A: Yes! When a non end-user shares feedback, they must agree to TOS. Once agreed, it stores only their email address in our database, but it does not create an account for the instance.
Q: Can we send Outreaches to end-users NOT invited to this Private Forum?
A: Yes! They will not be able to interact with the forum or see any other comments. Once they share their feedback, they will be notified that the forum is private.
Q: Can you do more than one outreach at a time on an idea?
A: No. But you can have multiple outreaches going at once on different ideas.
Q: I accidentally clicked "Finish Outreach" before intended, can this be undone?
A: Unfortunately, once the outreach is finished, the same outreach cannot be opened. However, you can open another outreach.
Q: Where is the list of addresses sent in the outreach?
A: We do not store the list of email addresses in our logs.
Q: We have used all of my email usage for the month, how can we get more?
A: Contact our
Sales Team
to increase the monthly limit.