This is available in UserVoice Discovery Pro and Premium.

Not included in your plan? Want to learn more about the benefits? Leave us a message! If you're viewing this on our Help Center, click the Support bubble in the lower-right of this page.
This report shows you how well you're doing with keeping your users informed via public status updates.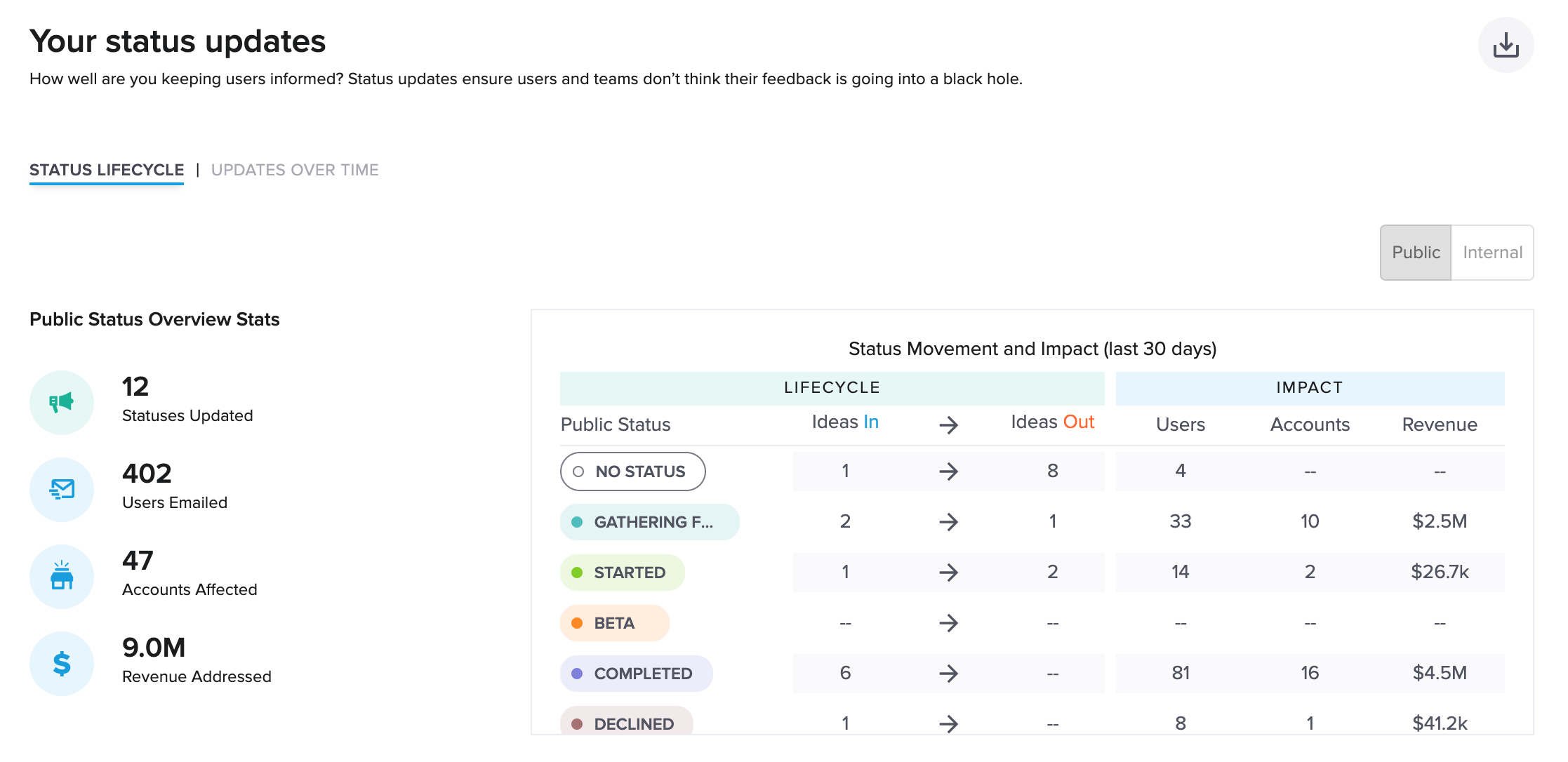 Why it matters: Your users and internal teams are sharing feedback with you! Are you following up with them with updates or leaving them in the dark? The status updates report shows the impact, reach, and frequency of the status updates your team has been making.
About the data:
The "Status Lifecycle" section provides high-level information about your status updates, including the total number of updates, number of status update emails sent, and the number of supporting accounts and their respective revenue.
Note: Account and revenue information is only available if you're using our Salesforce Connector for Account Insights (premium plan)

.

The "Status Lifecycle" table demonstrates the movement of status updates over time. The "Ideas In" column reflects the number of times ideas were marked as that status. "Ideas Out" reflects the number of times ideas exited a status. For example, if 10 ideas are currently "In Progress" and you update them to "Completed", the Ideas Out column for "In Progress" would have 10 and the Ideas In column for "Completed" would have 10.

The "Status Lifecycle" table also shows the impact of status updates.

Public: For each status update, the "Accounts" and "Revenue" columns will reflect the appropriate numbers for the accounts that have supported one of the ideas with that status update. For example, if an idea is only supported by a single account and you update that idea's status from "Researching" to "In Progress", the "In Progress" section will reflect that one account and its revenue value.

Internal: "Accounts" and "Revenue" will not have data. This is because the impact is on Contributors and Admins, which belong to your organization. The User count is number of Contributors and Admins that received an Internal Status Update email.

The "Updates Over Time" chart tracks the frequency of public and internal status updates, as well as the percentage of increase/decrease compared to the previous time period.