This is available in UserVoice Discovery.

Not included in your plan? Want to learn more about the benefits? Leave us a message! If you're viewing this on our Help Center, click the Support bubble in the lower-right of this page.
Here you can determine which forums and categories are most active across your UserVoice instance. You can see how your forum activity stacks up relative to one another and drill in to see activity by forum over time.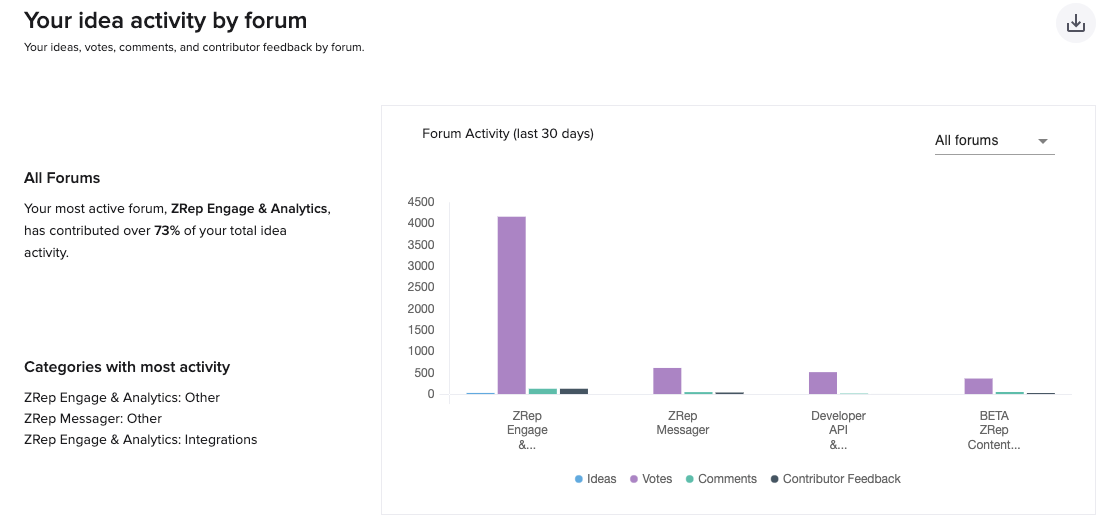 Why it matters: Is one of your forums getting more activity than average recently? How much activity is that recently-launched forum getting? This report helps you see the distribution of your UserVoice activity across your various forums and keep an eye out for changes.
About the data:
Percentage of Idea activity (left)
Bar Graph

You can view this for all forums or select individual forums with the dropdown menu on the right.
Represents the count of Idea activity for your selection.

Top Categories

These are the top 3 categories in the forum(s) you have selected based on idea activity.