The UserVoice Activity report gives you a snapshot of your feedback program's health. These reports are available by clicking the pie chart icon. Across the top of the page, you have quick access to each report by clicking on the title as well as a time range selector. This report can be downloaded as a PDF for you to share with colleagues and stakeholders; each individual section can be downloaded as a PNG image file. In this article, we will break down the meaning of each of the reports and how they are useful.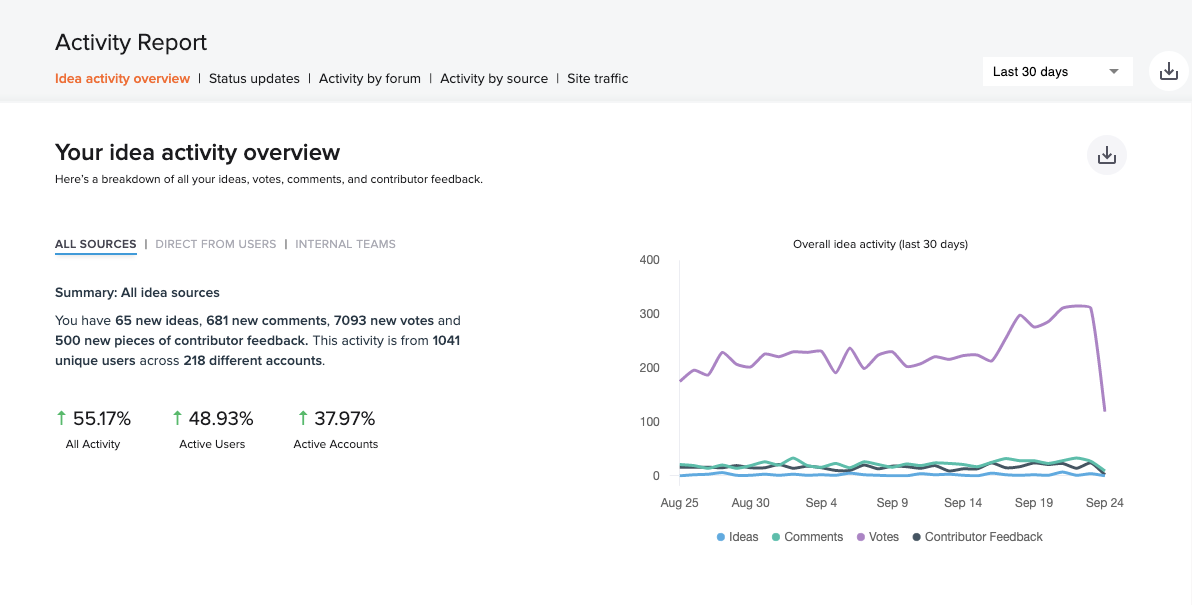 The reports available are:
In the context of these reports, Idea Activity is based on your selected timeframe (upper right) and includes:
Ideas Created

Comments on Ideas

Votes on Ideas

Feedback on Ideas captured on behalf of end-users
You can select preset date ranges, or create a custom date range for the report: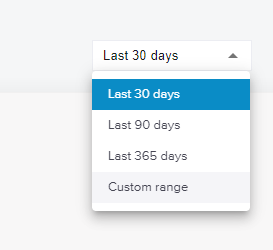 Things to note with Custom date ranges!
A custom date range can be up to 365 days long (Jan 1, 2010 - Dec 31, 2010)
We do not have a record of site traffic prior to May, 2018 - date ranges prior to this date will not reflect accurate site traffic.
Overall Idea Activity
This overview summarizes all ideas, comments, end-user votes, and contributor feedback across your account. You can view by All Sources or filter to Direct From Users or Internal Teams.


Why it matters: This report gives you a snapshot of engagement and participation. How much engagement is your feedback program getting? What percentage of users and accounts are participating in your feedback program? How is the level of engagement changing over time?
About the data:
All Activity Percentage

Indicates the percent increase or decrease in Idea activity related to the previous timeframe, i.e. if the time range is set to 90 days then we are comparing the volume to the previous 90 days.

Users Activity

Indicates the percent increase or decrease in Idea activity.

Accounts Activity

Indicates the percent increase or decrease in the number of Accounts that their end-users had Idea activity

When Direct From Users is selected, activity from internal users such as admins and contributors will not be included.
When Internal Teams is selected, activity from end-users will not be included.

Only idea activity from licensed (admin or contributor) UserVoice users is considered.
Status Updates
This report shows you how well you're doing with keeping your users informed via public and/or internal status updates.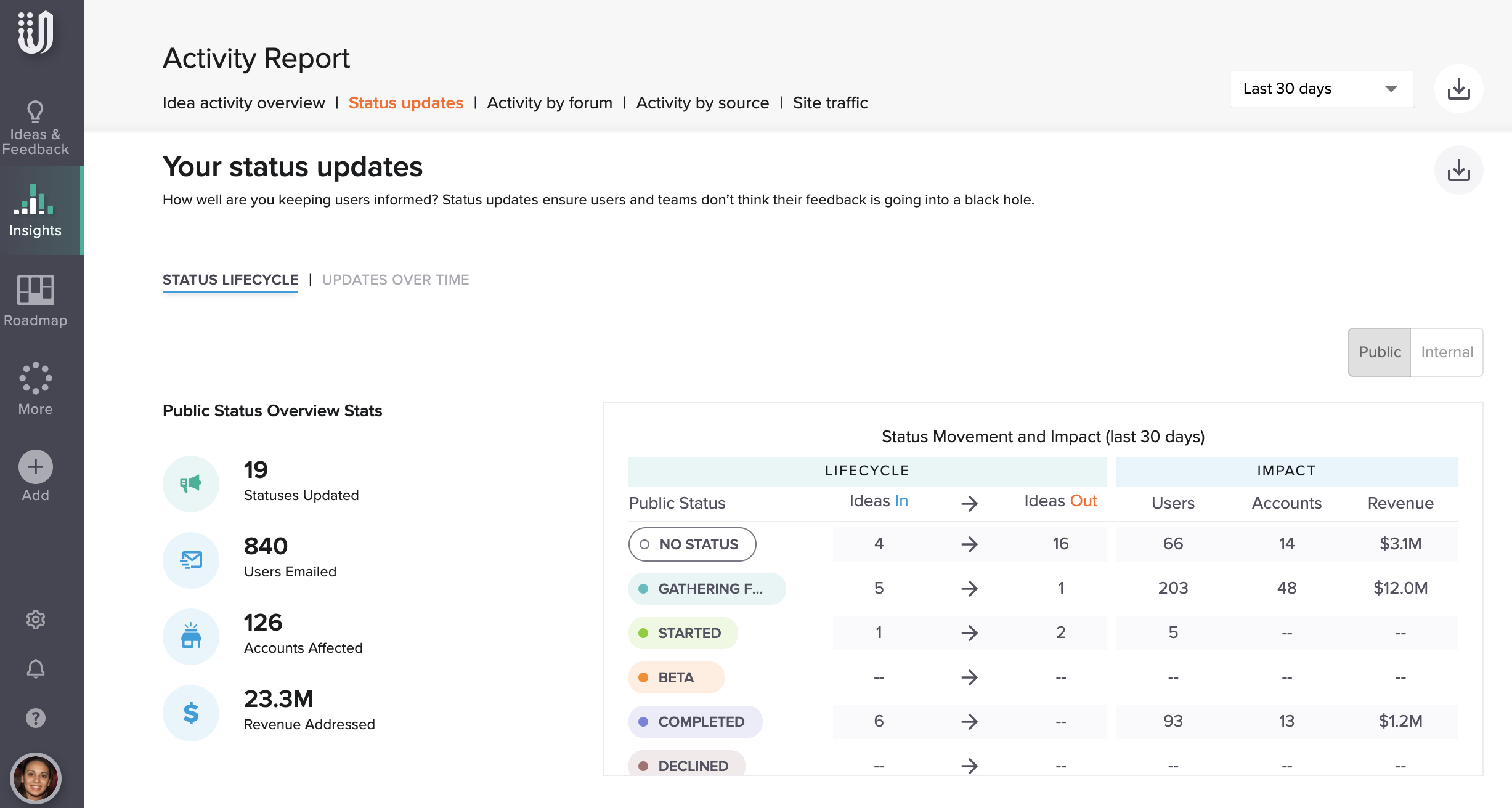 Why it matters: Your users and internal teams are sharing feedback with you! Are you following up with them with updates or leaving them in the dark? The status updates report shows the impact, reach, and frequency of the status updates your team has been making.
About the data:
The "Status Lifecycle" section provides high-level information about your status updates, including the total number of updates, number of status update emails sent, and the number of supporting accounts and their respective revenue.

Please note: account and revenue information is only available if you're using our Salesforce Connector for Account Insights

.

The "Status Lifecycle" table demonstrates the movement of status updates over time. The "Ideas In" column reflects the number of times ideas were marked as that status. "Ideas Out" reflects the number of times ideas exited a status. For example, if 10 ideas are currently "In Progress" and you update them to "Completed", the Ideas Out column for "In Progress" would have 10 and the Ideas In column for "Completed" would have 10.

The "Status Lifecycle" table also shows the impact of status updates. For each status update, the "Accounts" and "Revenue" columns will reflect the appropriate numbers for the accounts that have supported one of the ideas with that status update. For example, if an idea is only supported by a single account and you update that idea's status from "Researching" to "In Progress", the "In Progress" section will reflect that one account and its revenue value.

The "Updates Over Time" chart tracks the frequency of public and internal status updates, as well as the percentage of increase/decrease compared to the previous time period.
Activity by Forum
Here you can determine which forums and categories are most active across your UserVoice instance. You can see how your forum activity stacks up relative to one another and drill in to see activity by forum over time.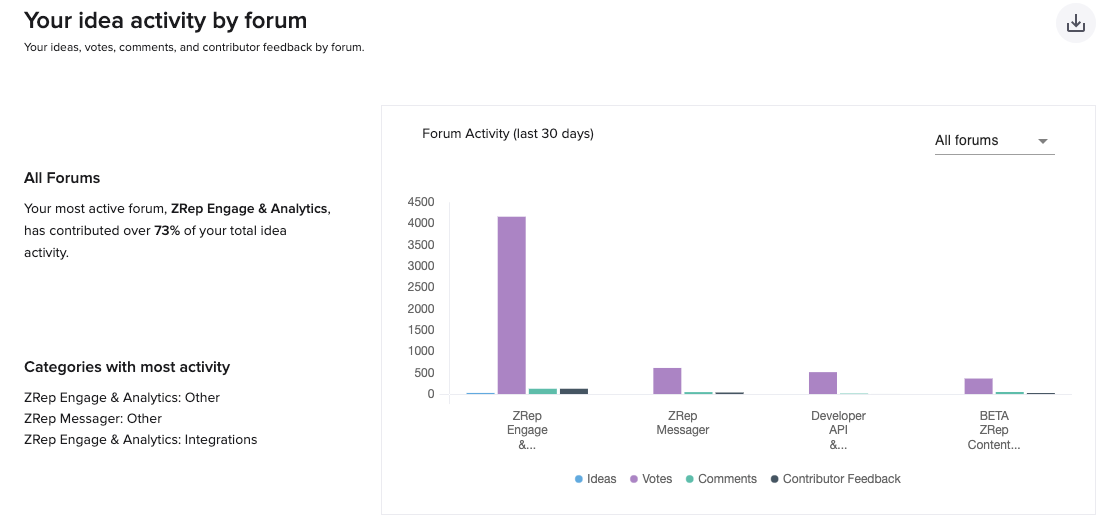 Why it matters: Is one of your forums getting more activity than average recently? How much activity is that recently-launched forum getting? This report helps you see the distribution of your UserVoice activity across your various forums and keep an eye out for changes.
About the data:
Percentage of Idea activity (left)
Bar Graph

You can view this for all forums or select individual forums with the dropdown menu on the right.
Represents the count of Idea activity for your selection.

Top Categories

These are the top 3 categories in the forum(s) you have selected based on idea activity.
Activity by Source & Team
This is a view of your ideas, votes, comments, and contributor feedback by source. That is, how and where users are engaged.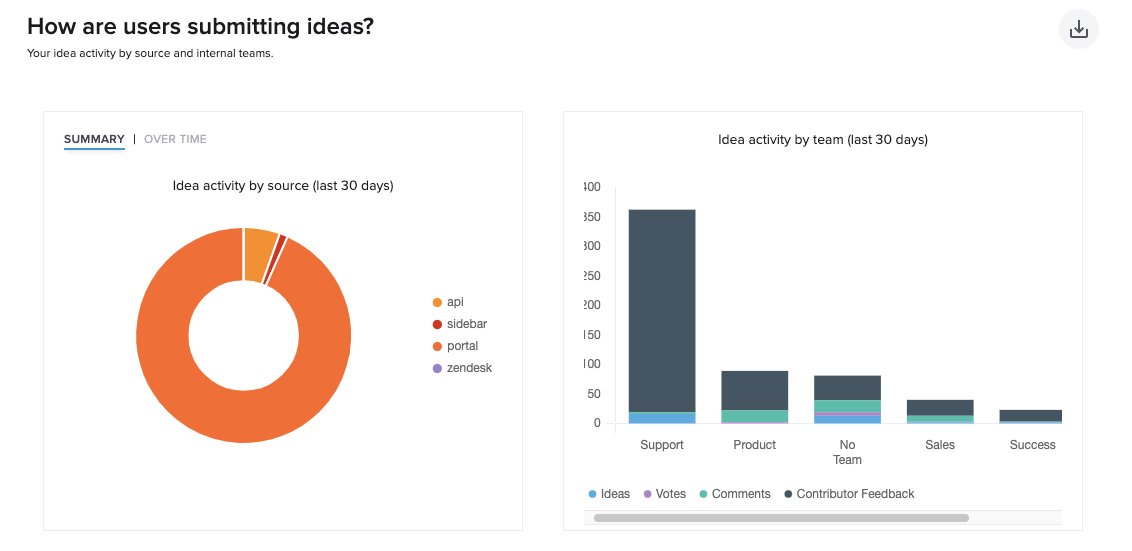 Why it matters: Are your users making use of the variety of feedback channels you're offering? Now that you have context into how much engagement your feedback program receives, you can use the activity by source report to understand which feedback sources are capturing the most feedback. You can also use this report to see how much feedback internal teams are sharing and what channels they're sharing it through.
About the data:
The donut chart represents where idea activity is coming from. This can include the portal, the contributor sidebar, the Post Idea widget, or any other integrations you have configured.
The bar graph represents idea activity by teams. Learn more about setting up teams here.

X-axis is the feedback channel
Y-axis is the count of activities
Site Traffic
This report gives you a snapshot of how many people accessing your UserVoice Web Portal. You can also see how many end-users are interacting with the Post Idea Widget if you have it implemented.

Why it matters: Is your portal getting attention and attracting visitors? This report can help highlight changes in the amount of attention your customer-facing feedback site is receiving. You can use this report to answer questions such as: Is a recent release sparking an increase in traffic to your portal? Are efforts to promote your portal driving traffic to it? Is a recent change to your website or application resulting in fewer click-throughs to your portal?
About the data:
Portal visits counts the users that have visited your site, regardless of their activity.
Widget visits counts the number of times users clicked on the Post Idea widget, regardless of their activity.
The line graph displays the trend of user visits.
The figure in parenthesis (N people) indicates the daily average over the selected period.
FAQs
The Activity Report cannot be exported. You can export your data in the ideas grid to create your own reports. Here's how.
You cannot customize the data range of the activity report. You have the options for 30 days, 90 days, and 365 days at the top right.

"Classic Voting" (deprecated feature) votes are not included in the vote counts.

Content marked as spam is not included in Idea activity.

Content from blocked users is not included in Idea activity.

Imported content is taken into consideration for the reported numbers.