This is available in UserVoice Discovery.

Not included in your plan? Want to learn more about the benefits? Leave us a message! If you're viewing this on our Help Center, click the Support bubble in the lower-right of this page.
Activity by Team
This is a view of your ideas, votes, comments, and contributor feedback by Team. That is, how and where users are engaged.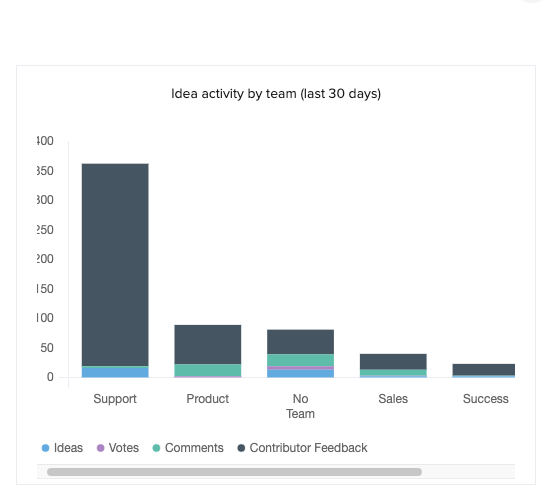 Why it matters:
Which team is most active and what type of activity are they submitting? View the report to collect a general consensus of how they rank amongst each team and adding Ideas, Comments, Votes, and Contributor Feedback. Learn more about setting up teams here.
About the data:
The bar graph represents idea activity by teams.

X-axis is the feedback channel
Y-axis is the count of activities

Ideas are all ideas created by a member of a Team.
Votes increment when team members add their vote to an idea, either via the Web Portal or Contributor Console.
Comments are counted when a team member creates a public comment on the Web Portal.
Contributor Feedback increments when a team member captures feedback on behalf of someone else.