You can customize which sections of the Admin Console your licensed internal users can access. For example, you could give an admin access to just ideas, or you can remove an Admin's access to settings.
Click the Settings icon (cog) in the left-hand menu → Click General Settings → Users & Permissions.
Search for or click on the name of the user whose permissions you would like to edit.
Edit their permissions and revoke access from here.
Different user types
Admin: Can access the admin console, all private forums and capture feedback with sidebar.
Contributor: Can capture feedback on behalf of users with the contributor sidebar, but can't access admin console.
Set Permissions for the Different Parts of the App
Disabled: No access.
Always on: Access cannot be limited.
Can view: They have view only access.
Can view & edit: They have view and edit privileges.
Can edit account settings only: They have access to all settings with the exception of permissions and billing (where applicable).
Can manage and update settings: Full access to all settings, including permissions and billing (where applicable).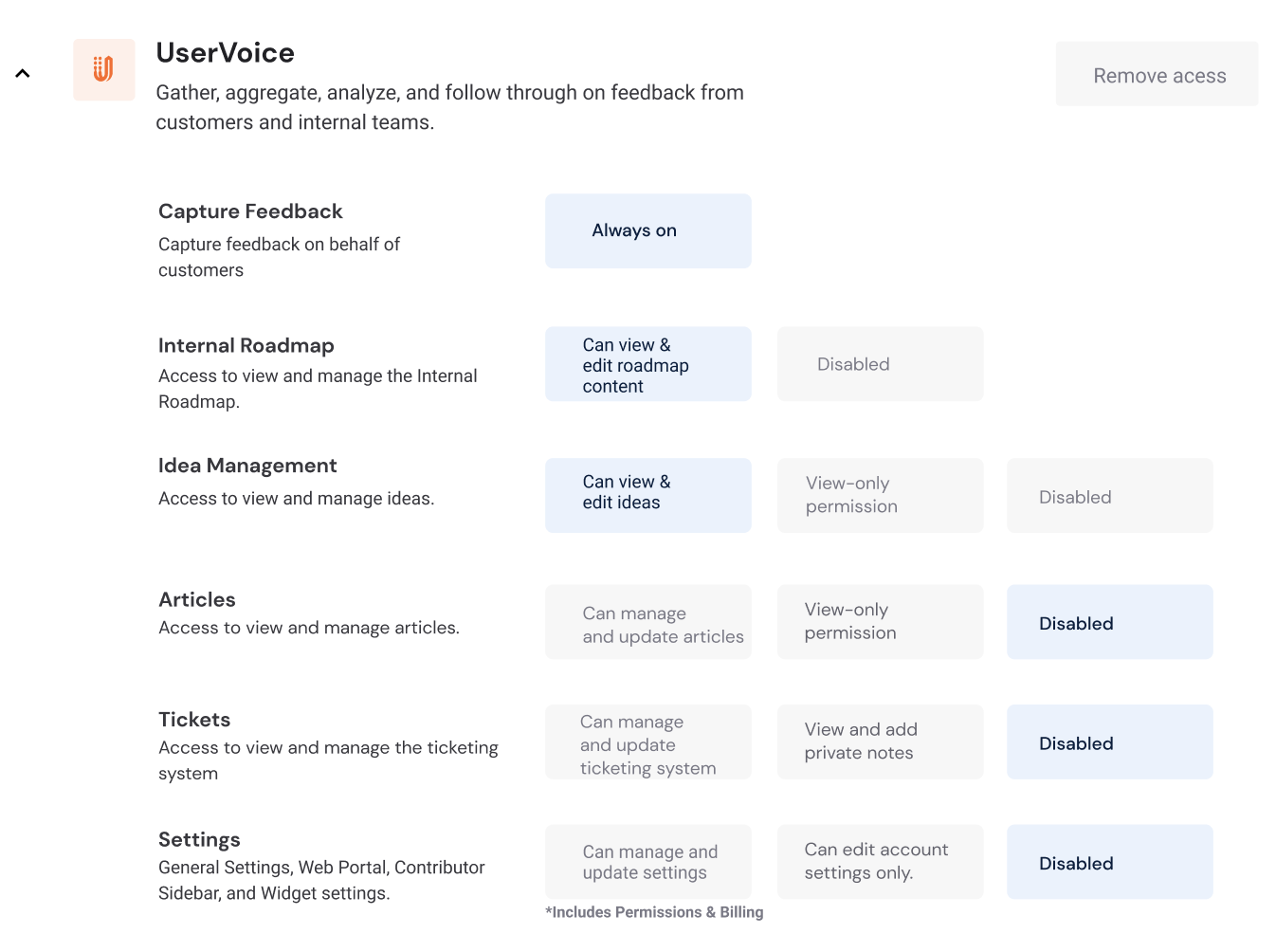 Note about Contributors....
Contributors do not have access to private forums by default - they will need to be granted access just like any end-user.
If you edit a users permissions to be a Contributor, this does not send out an email telling them how to install the sidebar. For this reason, we recommend that you always invite users when adding Contributors.
How to make someone an Owner
To grant an admin full owner privileges, give them full access to settings, "Can manage and update settings (which includes permissions and billing)". Owners can add internal users (admins and contributors), edit other users' permissions, and update billing information. Further instruction can be found here.
Managing End Users
User Type - None/End-user: Can only access web portal and forums, and not the admin console and is managed in the Users & Accounts tab. Click More in the left-hand navigation of the Admin Console → Users & Permissions. You can search, scroll to, or filter to end users and click the user to edit their access (either allowed or blocked).
Q. Can I edit permissions before an internal user accepts an invite?
A. Yes. After you invite a new internal user, click the user in the list or the vertical ellipsis icon ⋮ , and you can edit their permissions before they accept the invite.