Authentication into UserVoice use an email confirmation flow with the Magic link service. This replaces password authentication, so all users need to do is verify their email address to authenticate.
Here is a quick video of what this experience looks like...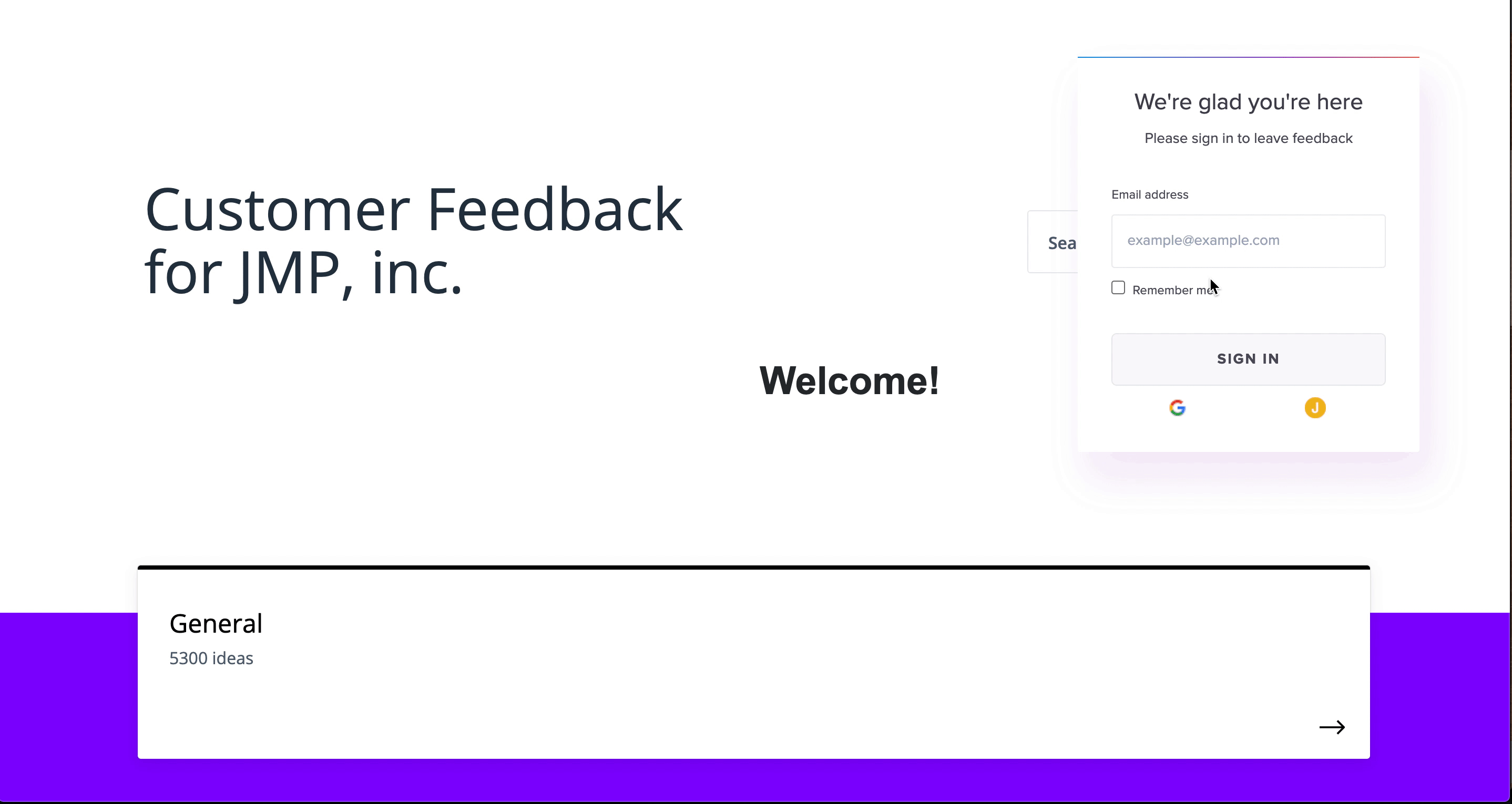 All users are required to provide an email address, and then click a link in the email that is sent to authenticate. This will be used in all places that users authenticate including the web portal, admin console, widget and contributor sidebar.
When you check the "Remember me" option, you will not be prompted to re-authenticate for another 30 days, as long as your browser session persists.
SSO and social authentication options (Google and Facebook) will bypass email authentication.
If you pass the user's email address in the widget with our .identify javascript, they will not be prompted to authenticate. More information about doing this can be found here.
When your site is restricted, you cannot use email authentication on the portal or the widget. It will always be an option in the Admin Console. More information about making your site private can be found here.
If you are having issues, please see our troubleshooting article for more information.
FAQ
Q: What if I no longer have access to the email address that is associated with my UserVoice account?
A: Please have your UserVoice admin send you a new invite. You'll be able to create a new account.
Q: I changed my email address to one where I can't access the inbox. How can I retrieve the account?
A: Please work with your email service provider to regain access to your email account. Otherwise, please have a UserVoice admin send you a new invite. You'll be able to create a new account with an email address that you can access.
Q: Will I have to go to my email every time I want to log into UserVoice?
A: No. UserVoice will continue to manage live user sessions as they do today. Meaning, if you're authenticated to access the application, as long as you still have a live session, you will not be required to authenticate again. Once your session ends though, you will have to re authenticate via your email.
Q: Is there an expiration limit on the link I receive in my email?
A: Yes. That link will be live for 10 minutes. Once that time elapses, you will have to request another one by attempting to sign into UserVoice again.
Q: Will GDPR consent still be requested for new users signing up for the first time?
A: Yes. Our commitment to GDPR compliance will not change as a result of this.