This is available in UserVoice Discovery.

Not included in your plan? Want to learn more about the benefits? Leave us a message! If you're viewing this on our Help Center, click the Support bubble in the lower-right of this page.
As an Admin, you want to control which notifications you receive. Adjusting your settings is fairly simple. We'll walk you through the process.
In the admin console, click your avatar or initials at the bottom left of the main menu
Click Email Subscriptions.
You'll arrive on the Email Subscriptions page and be given a list of options to choose from.
Insights
Customize your insights email by trending ideas ranked by supporters or accounts, and only include feedback and updates from specific forums and categories. Determine how often you wish to receive this digest email.

*Note: To show trends by accounts, we recommend you pass user and account traits. Learn more here.
Example Insights Email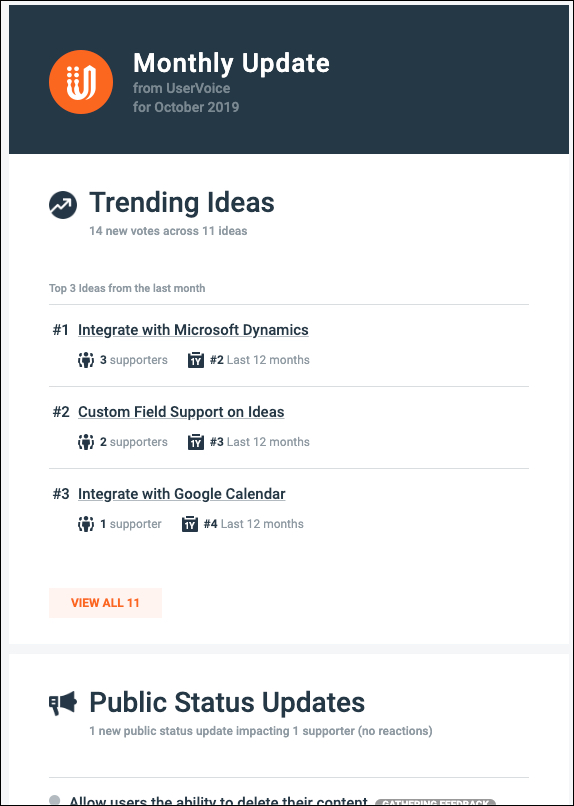 Saved Views
Utilizing saved views, this is the best option for admins wanting to receive a daily summary email of the forums & categories that is most relevant to you.
Learn more about setting up saved views here.

Moderation
Choose to receive an email when an idea or comment is flagged for moderator approval.

Activity Updates
Choose to receive emails based on the activities that matter to you. Note: these notifications apply to all forums.