This is available in UserVoice Discovery.
With the Notification Center in the UserVoice admin console, admins can receive in-app notifications of customer activity, including reactions to their status updates, responses to their subscriber emails, and responses to their 1:1 communication.
Further information about status updates can be found
here
, subscriber emails
here
, and 1:1 communication
here
.
The Notification Center is the "bell" icon in the lower-left of the admin console. It will appear with a red number icon to show the different notifications.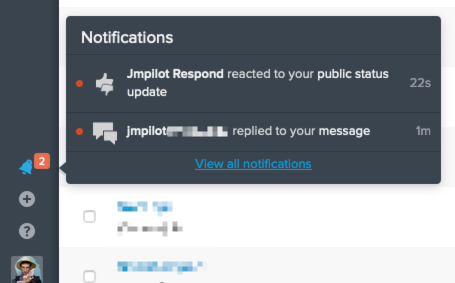 Once you click in the notification center, the red number icon will disappear, as well as the red dot next to each notification item to indicate the item has been seen.
Once you click a specific item in the notification center, a grey dot will disappear to indicate that the item has been read.
You can click the "View all notifications" link to see an expanded view of your notifications, where you can also filter by the different notification types.

When different end-users respond to the same admin action (like 2 end user's reacting to the same status update) they will be grouped together in the Notification Center.

Notifications will only persist here for 7 days, after which, they will no longer appear. If you want to see this changed, you can vote for the idea
here
.