Introducing our new Contributor Console! It functions as a dedicated feedback hub for customer-facing team members, and improves the product feedback process for everyone involved. With the Contributor Console, you can...
Capture Ideas and Feedback
Easily enter a customer's idea during a meeting or call directly from the Contributor Console. To get started, hit the orange plus-sign in the top-right of the console! The flow is similar to the contributor sidebar, with a few differences we'll outline below.
Enter the customer's email address. Don't remember it? You can search users in your instance in the global search ribbon!



Enter the customer's idea - this will be the idea's title, and will be public by default.



Check if an idea already exists - if it's a match, add the feedback there!

Note: When a customer's idea is added to an existing idea, the text becomes internal feedback, and won't be public - feel free to add more context about the idea for your product team!


Let your customers know you're listening and tracking their feedback! Click the blue button to copy a link to the idea to share in your conversation.


Track Feedback and Ideas You've Captured
In the My Activity tab of the Activity section, you'll see a list of all ideas you've created and feedback that you've logged on behalf of customers.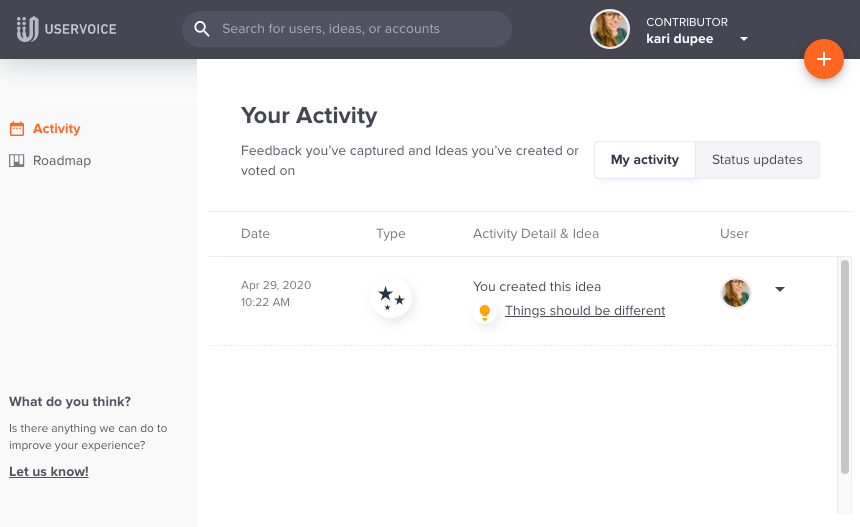 You can click an idea to add more feedback, add your vote, or quickly copy a link to the idea.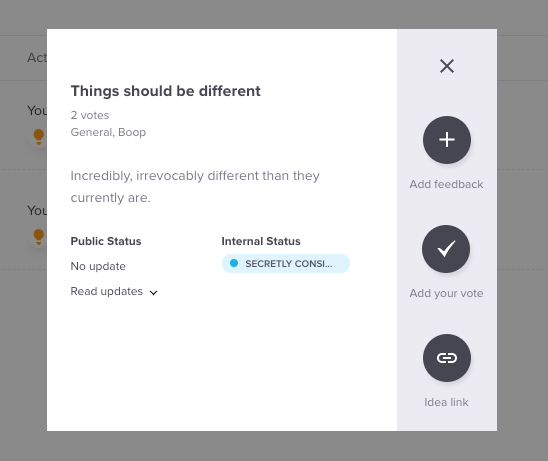 View and React to Status Updates
In the Status Updates tab of the Activity section, you'll see both internal and public status updates on ideas in your UserVoice instance.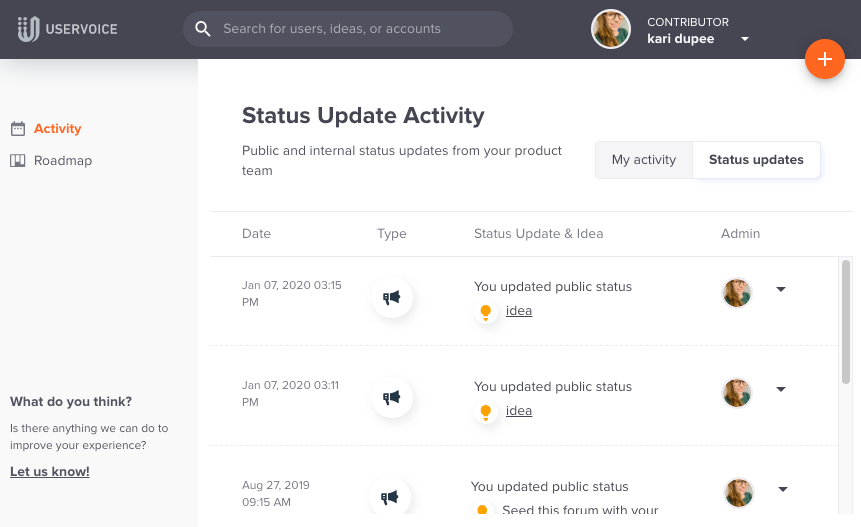 You can click an entry to react to the status update (reactions are not public), or read the update in detail.

View the internal Roadmap
Your team can link ideas to Features! If they've shared this with you, you'll be able to view it here to keep tabs on these broader initiatives here.