This is available in UserVoice Discovery Pro and Premium.

Not included in your plan? Want to learn more about the benefits? Leave us a message! If you're viewing this on our Help Center, click the Support bubble in the lower-right of this page.
Quantify the impact of an idea will have on your business with the Importance Rating feature.
End-users can select "Not at all", "Important", or "Critical" when viewing an idea to answer the question, 'How important is this to you?'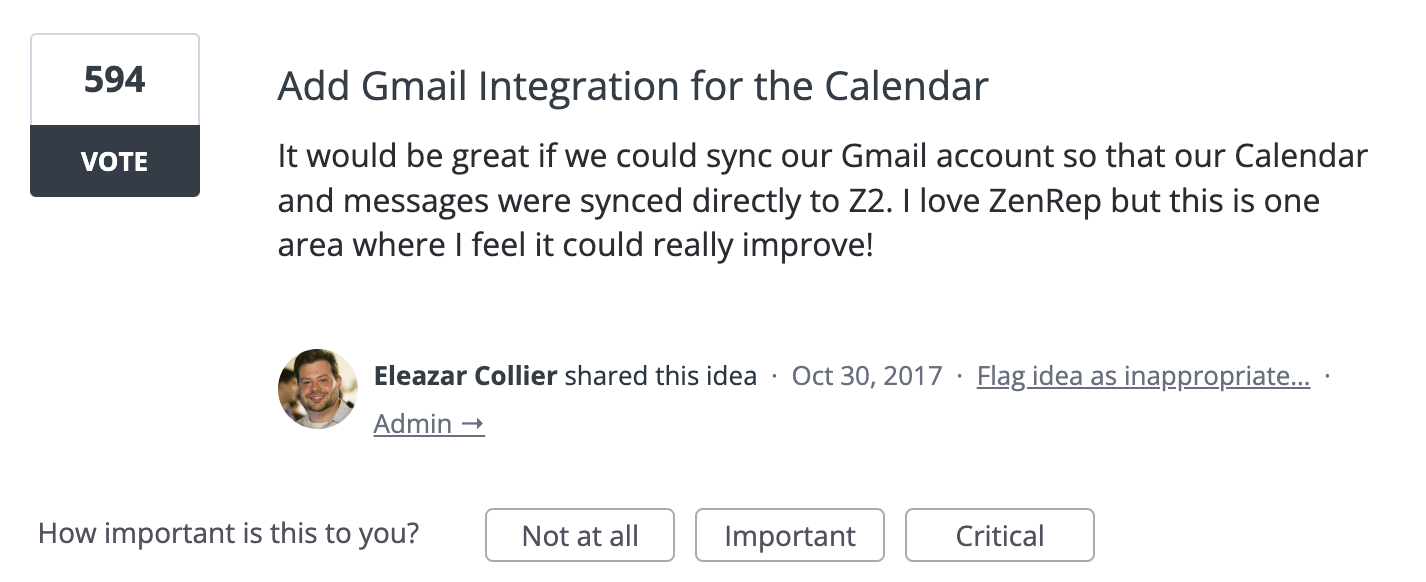 Importance Rating Labels
Admins can edit the importance rating labels to display other phrases that best align with their company's wording. Create phrases, under 15 characters, that align with low, medium, and high value for customers to place their importance rating. Updated labels will be reflected across the admin console as well.
To edit labels, go to Settings → Web Portal → Importance Rating Settings → Edit.
Importance Rating Votes
You can also state whether or not you want a user's importance rating to count as a vote. By default, users who vote a high or medium importance will be counted as a voter. Those who vote low importance will not be counted as a voter by default.
You have the option to change this status by going to Settings → Web Portal → Importance Rating Settings → Edit, and selecting/deselecting the check box next to each importance label.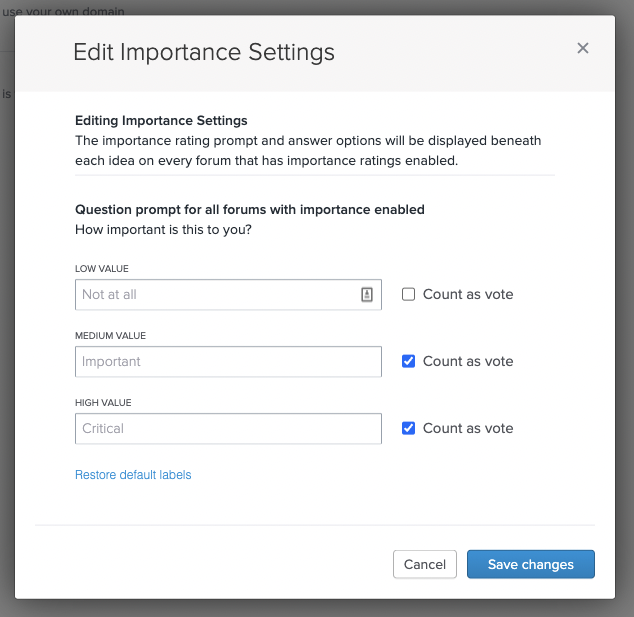 Summary Analysis
You can view responses in two fashions: as a collective or individually. This helps you gain additional insight in your idea analysis and prioritization.
To summarize importance on an idea, you can view and sort the collective responses on the Idea Grid. Or review the details when analyzing the idea on the Insights tab when viewing an idea.


To further assist with analysis, we have calculated the average importance rating for each idea. This is a weight score that is based upon a scoring method.
(# of Not at all + # of Important * 2 + # of Critical * 3) / Total Responses = Weighted Avg
Not at all < 1.5 1.5 ≥ Important ≤ 2.5 Critical > 2.5
Individual Report
All users who select an importance rating, regardless of support, will be shown in the Users tab of the idea. The rating they have chosen will be shown under the column "Importance".
Admins now have the ability to export data for importance rating. This data is included when exporting users on an idea.

Common Questions
Q: Can this feature be disabled?
A: Yes! You can disable the importance rating per forum. Go to General Settings > Ideas > Forums > Edit Forum. Note, this feature will be automatically disabled for closed forums.
Q: As a Contributor, can I leave an importance rating on behalf of a customer via the Sidebar?
A: The Importance Rating is only available on the Web Portal. While you may select a rating as an end-user, we would recommend using the Flagged Ideas feature as a way to collaborate with admins.
Q: Can this data be exported or viewed in the API?
A: To export a summary analysis on ideas, use the Ideas Only Export on the Export Idea Activity. To obtain individual reports of users on ideas, use the Ideas & Voters Export.
A: View our API endpoints here.