This is available in UserVoice Discovery Essentials, Pro and Premium.

Not included in your plan? Want to learn more about the benefits? Leave us a message! If you're viewing this on our Help Center, click the Support bubble in the lower-right of this page.
When viewing a list of ideas, you have the ability to use filters and search to find the ones you're interested in. (To view all of your ideas, click the Ideas icon on the left -> Click "All open ideas".)
Filtering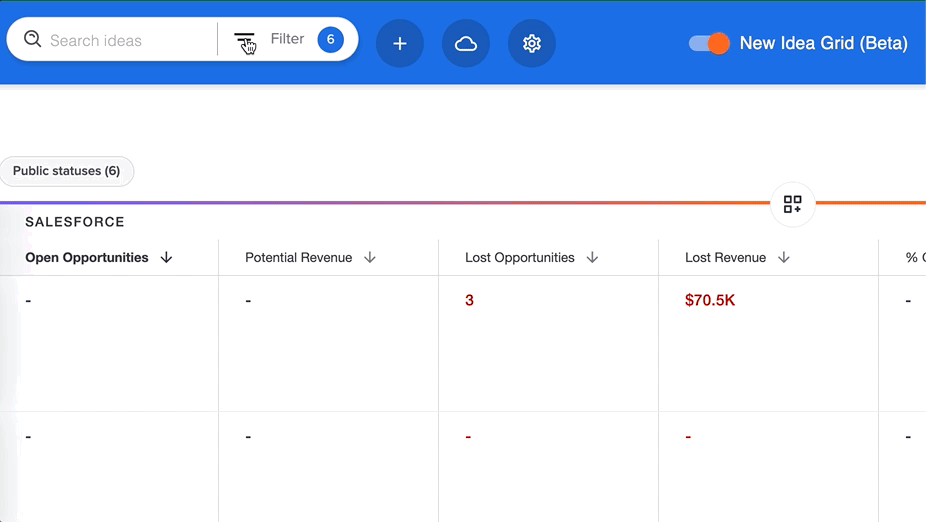 These are the filters available:
Date filter: See ideas that have gained votes based on a specific time range. Learn more here.
Activity: For a specified time range, filter your idea grid by new votes, ideas, comments, or importance ratings. Not available when date filtered is set for "All Time".
Forum and Category: Find ideas in the forum(s) and/or categories that matter most to you.
Public Status: Filter to certain public statuses
Internal Status: Filter to certain internal statuses
Label: Internal tags on ideas. More information about using labels can be found here
Inactivity: Find ideas that haven't had any votes or comments in a certain time range. Available when date filtered is set for "All Time".
Important things to consider when using filters:
You can use multiple values within each filter, and multiple filters with each other.
An idea cannot belong to multiple categories and statuses, so these filters provide a good way of excluding ideas from your results.
Labels by themselves are "inclusive" since an idea can be tagged with multiple labels. This means when you apply a label to the filter, it will return all ideas that have at least that label. We will not return ideas that only have that label.
This is also how the filters work when you have multiple labels. We will return all ideas with at least one of the labels.
Searching
You can search within a set of ideas by using the search bar at the top.




When viewing ideas you can search across all of your forums. You can use the search function in combination with any available filters.
The search functionality allows you to use plus (+) for AND, vertical bar (|) or OR, quotes for exact phrase search, and minus (-) to exclude a term from results. See more here.

Q: Search isn't returning the results I expect. What can I do?
A: See our troubleshooting guide for a walkthrough of how search works, and what to check.