This is available in UserVoice Discovery Pro and Premium.

Not included in your plan? Want to learn more about the benefits? Leave us a message! If you're viewing this on our Help Center, click the Support bubble in the lower-right of this page.
Your Product Roadmap is a strategic communication tool and it gives internal teams more visibility into your priorities and the data behind decisions. This leads to greater understanding, alignment, and buy-in.
UserVoice's Roadmap will enable your Product Team to:
Reduce time spent meeting with internal teams to disseminate information.
Increase alignment and buy-in by linking supporting customer ideas to features on your Roadmap.
Reduce risk associated by getting internal team feedback on your Roadmap.
Create features on your Roadmap
Click the "Board icon" icon in the left-hand menu -> Click "Create a Feature" at the top of the page.
Add the Title and Description: Create the title and description, outlining the feature. This will be visible to internal teams when viewing your Roadmap. The description supports markdown.
Set the Product Area: To create your Product Areas, click the gear icon on the right, and you'll see the option to "Edit" the "Product Area."
Set the Status: Set the status of the feature. Items with no status will not appear to internal teams when viewing your Roadmap. Learn more.
Add Custom Fields: (only available in Premium Plans) Add custom data relevant to your business like links to mockups, dev effort, and impact ratings. Custom Fields will not show to internal teams when viewing your roadmap. Learn more.
Pro Tip:
Not sure what items you want to add to your Roadmap? Check out our article on prioritizing features for your roadmap.
Link user suggestions to each feature on your Roadmap
Linking user ideas to a feature brings together all feedback related to the feature. It also allows internal teams to see the number of supporters across ideas when viewing a feature on your Roadmap, so they have more visibility.
How to Add an Idea to a Feature
From your Roadmap: Click into the feature -> Click the "Suggestions" tab -> Click "Link Suggestion" -> You will then be able to search and select the User Suggestions you want to link to the feature.
From a Suggestion: Click the "Features" tab -> Click the "Link Feature" -> Search and Select the feature you want to connect it to. If the feature does not yet exist, you can create it.
Pro Tip:
You can connect a suggestion to more than one feature.
Share your Roadmap
Upgrade to UserVoice Discovery Premium to gain access to this feature!
By default, your Roadmap will be visible by admins only. When you are ready to share internally, you'll be able to do so with contributors or all employees on a specific email domain.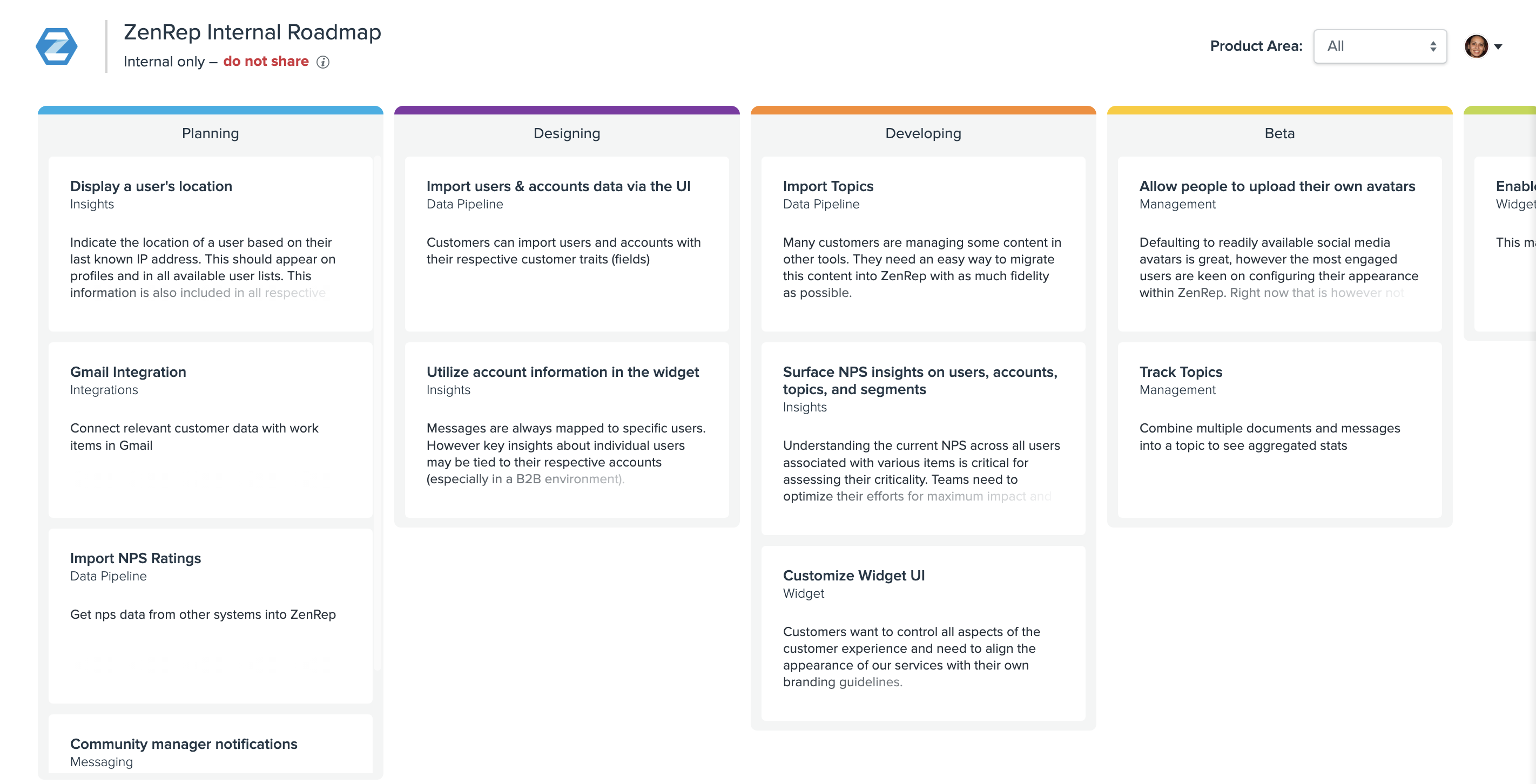 1. When viewing your roadmap, click the blue "Share Roadmap" button in the top corner.
2. Choose who you want to authorize to view the roadmap.
Admins Only: Only licensed admins on your UserVoice account can access (default).
Contributors: Licensed contributors can also access your Roadmap. They will need to log in with their UserVoice credentials (they same log in they use for the sidebar) to access.
Authorized Email Domains: Admins, Contributors, and specified domains (e.g. everyone @company.com). You can specify as many domains as you'd like. Users with verified email addresses from those domains will be asked to confirm their email address and create a password to gain access.
3. Decide if you wish to display accounts, users, or revenue on your roadmap before sharing as well!
4. Once verified and logged in, your internal teams will be able to view all items with a status on your Roadmap!
They can also subscribe, by "watching" a feature on your Roadmap
and will get a notification when the status of a feature changes.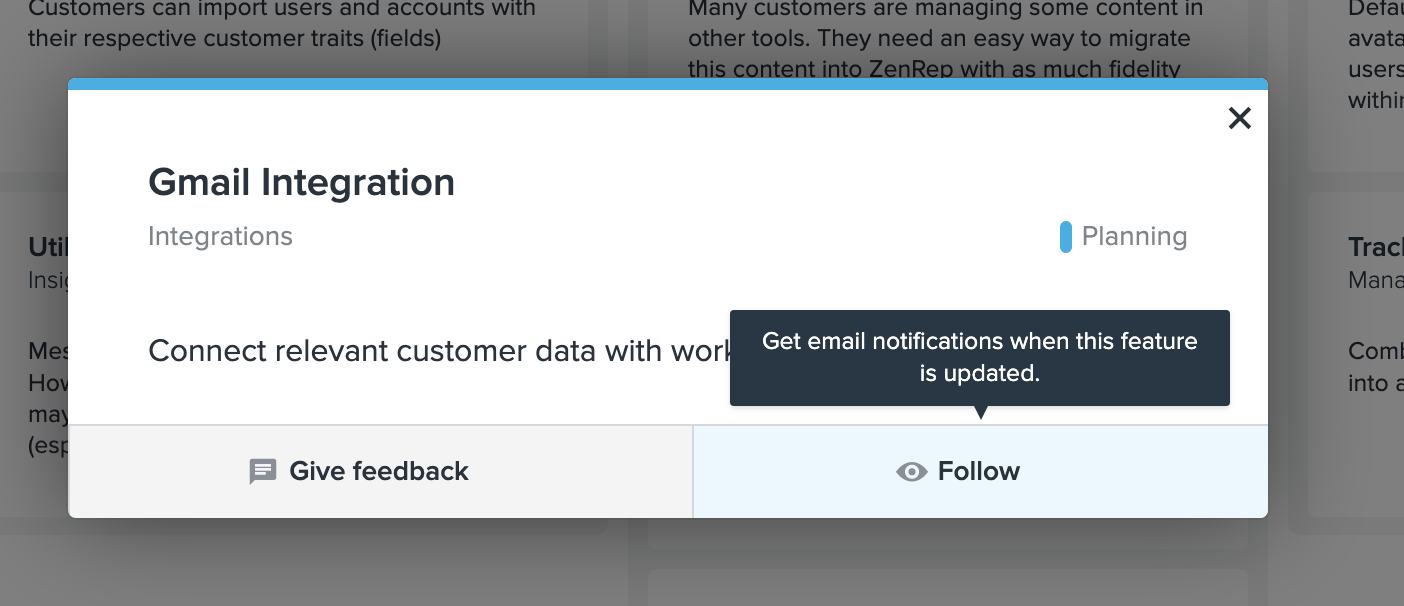 Common Questions
Q: Can I publish my Roadmap on my UserVoice site?
A: Not at this time, but we want to hear about any additional features you would like us to add. Please, share your ideas for this on our forum!

Q: Why is a feature not showing on my Roadmap?
A: Make sure you've given the feature a status. If a feature has not been assigned a status, it won't show on your Roadmap.
For easier visibility on your display, you can now hide/show status. Make sure you are also showing the correct status as well to view the referenced feature.

Q: Will the Roadmap appear in the Contributor Sidebar?
A: Not at this time, but this will appear in the Contributor Console. Go to subdomain.uservoice.com/dashboard to access.

Q: Are users notified when their idea is linked to a feature on our roadmap?
A: No.

Q: Why don't I see the roadmap icon on my account?
A: Verify with the Owner on your Account (the person on your team that has billing and settings access) that you have the necessary permissions for the Roadmap.

Q: How can I as an admin receive updates about the Roadmap?

A: Click the bell in the top right-hand corner to add roadmap feedback to your daily digest email. This requires you to have this notification turned on.