This is available in UserVoice Discovery as an add-on.

Not included in your plan? Want to learn more about the benefits? Leave us a message! If you're viewing this on our Help Center, click the Support bubble in the lower-right of this page.
Our FullStory integration links a user's ideas and comments to their associated Fullstory session, allowing you to see what a user was doing before they left feedback. Read more about the capabilities here.
Notes:
To set up this integration, you will need a UserVoice Admin and a Fullstory Admin.
We currently identify a UserVoice user's session in Fullstory by matching their email address (you will need to be passing a user's email field to FullStory). We do not support matching on their UID.
Fullstory offers different data retention plans. UserVoice will store links to Fullstory user sessions but in the instance where a session date is beyond your Fullstory data retention plan, you may be redirected by Fullstory, e.g., if your Fullstory data retention only goes back six months, clicking a user's Fullstory link in UserVoice on an idea created five years ago might lead you to be redirected to a different page in FullStory.
Step 1: Generate an API Key in FullStory
In FullStory, navigate to Settings → API Keys

Select "Create key" → Name your key → Create key

Once connected, FullStory will prompt you to copy the API key which can only be viewed this one time.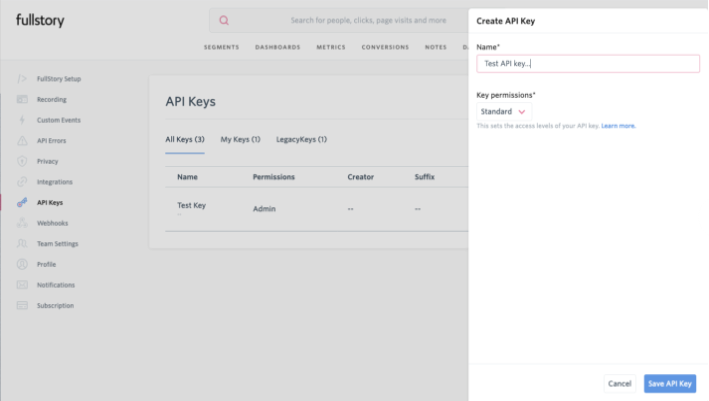 Step 2: Enter Your FullStory API Key in UserVoice
In UserVoice, navigate to Settings → Integrations → FullStory

Select "Setup FullStory" → Enter your FullStory API key → Save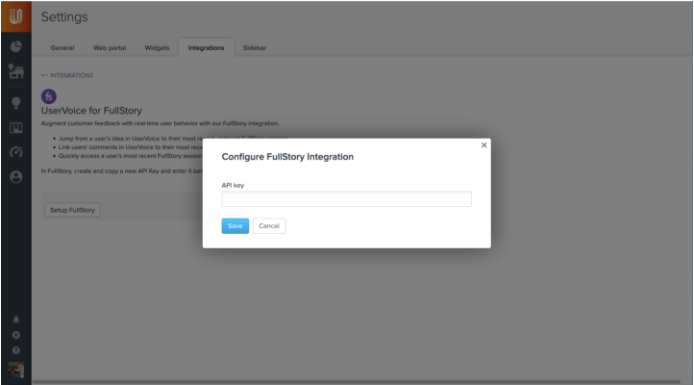 Note: Deleting your FullStory API Key will remove all FullStory session data from UserVoice.