This is available in UserVoice Discovery Premium as an add-on.

Not included in your plan? Want to learn more about the benefits? Leave us a message! If you're viewing this on our Help Center, click the Support bubble in the lower-right of this page.
Our Health Score & Renewal Report brings contributors valuable insights into feedback that is grouped by the data that matters most to them. Using data from Gainsight, this report provides contributors a way to view ideas grouped by account health and to browse accounts with upcoming renewals and their feedback.
Setting up the Health Score & Renewal Report
This integration requires an existing Account trait sync. If you do not have a trait sync, please refer to these articles depending on your CRM/Database:
This integration is compatible with Gainsight NXT and Gainsight SFDC Edition. The Administration Settings in Gainsight NXT might slightly differ from SFDC Edition.
From your UserVoice Admin Console, click the icon in the bottom-left corner to open the settings menu and select Integrations → Gainsight

In the Gainsight Health Score & Renewal Report section, click Set Up Configuration

Enter your Gainsight URL, this is typically your company name followed by gainsightcloud.com. For example: https://yourcompanyname.gainsightcloud.com. If you're unsure of your domain, refer to this

Gainsight article

.

Next, enter your Gainsight API Key. This can be generated in Gainsight by going to Administration → Connectors 2.0 → Connectors tab → Gainsight API → Create Connector → Generate Access Key


Next, select whichever field you are currently syncing to UserVoice as the External ID on Accounts, e.g. SFDC Account ID, GSID, etc. If you are using our

Salesforce Connector

, you should select SFDC Account ID. If you are using a different field, select Other and enter the Field Name.




The Field Name is different from the Display Name of a field in Gainsight. For example: A Field's Display Name might be "Testing ID test" but its Field Name will be "Testing_ID_test__gc".

Click Test Connection. If you receive a success message, click Save and you are complete. If you receive an error, double check that the values entered are correct.

Note! Our sync with Gainsight currently runs daily at 3AM UTC. Please check your Contributor Console after this time to view the Health Score & Renewal Report!

Making the most of your Gainsight Health Score & Renewal Report
Once you have set up the integration, there are a few things to learn and communicate with your team.
Browse the ideas that matter most to each health segment
From the Contributor Console, team members can quickly view ideas supported by accounts with red, yellow, and green health scores.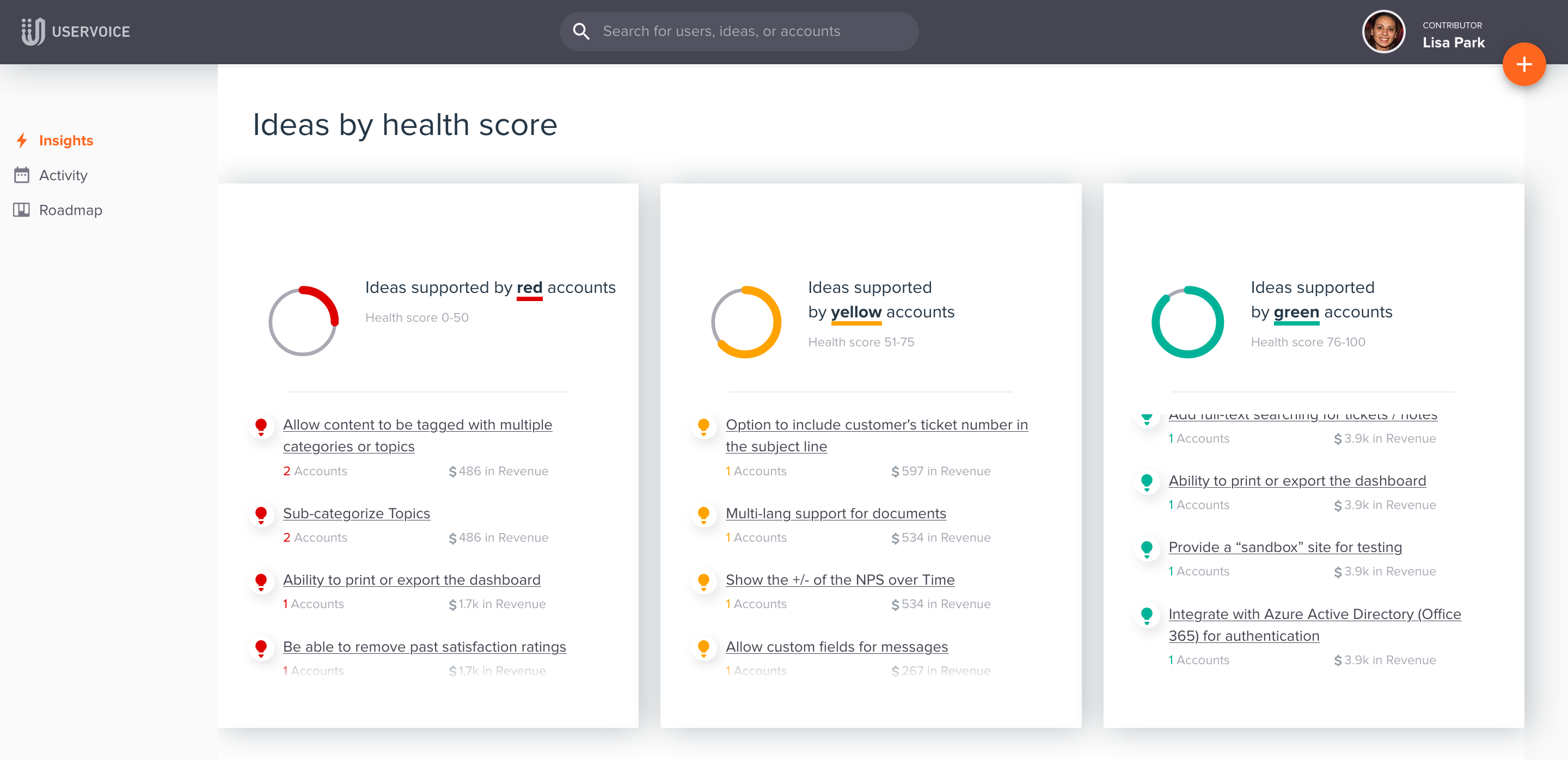 View ideas for accounts with upcoming renewals
Team members can select a date range for account renewals and filter the results by health score. This allows you to share the ideas that matter most to your at-risk (or healthy) accounts with your Product team.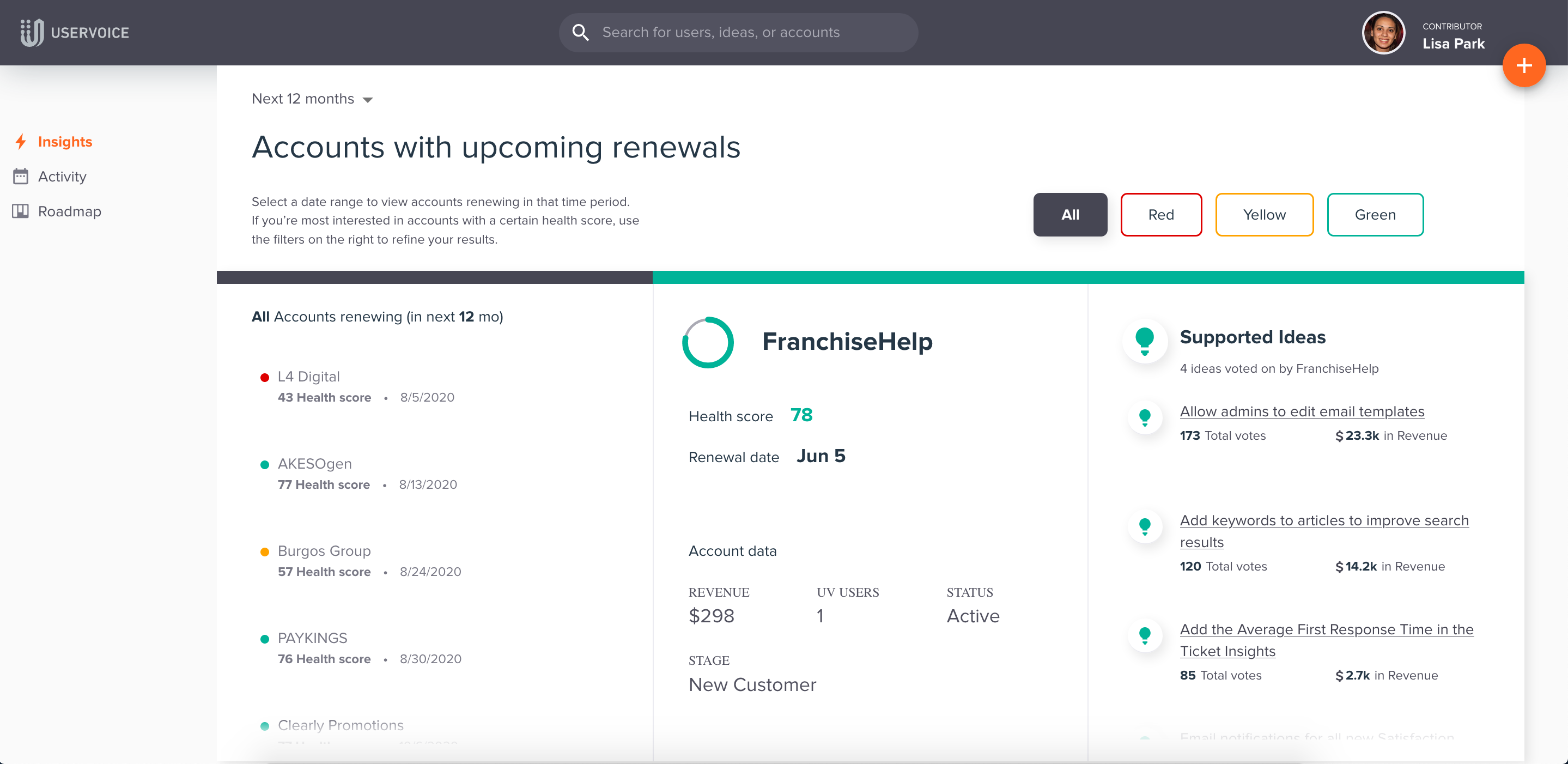 View revenue figures on ideas within the Contributor Console
From the Contributor Console, team members can view revenue metrics within an idea view.