This is available in UserVoice Discovery Pro and Premium.

Not included in your plan? Want to learn more about the benefits? Leave us a message! If you're viewing this on our Help Center, click the Support bubble in the lower-right of this page.
You have an active forum, but you may want to review content before it is posted to your forum. In this article, we'll walk through...
Enabling moderator approval
Click the Settings icon in the bottom left corner and select General.
Click Ideas, found under System.
Scroll down to Require moderator approval.
Click Enable.
All new ideas and comments will be held from public view until approved by an Admin. This will apply to all your Forums.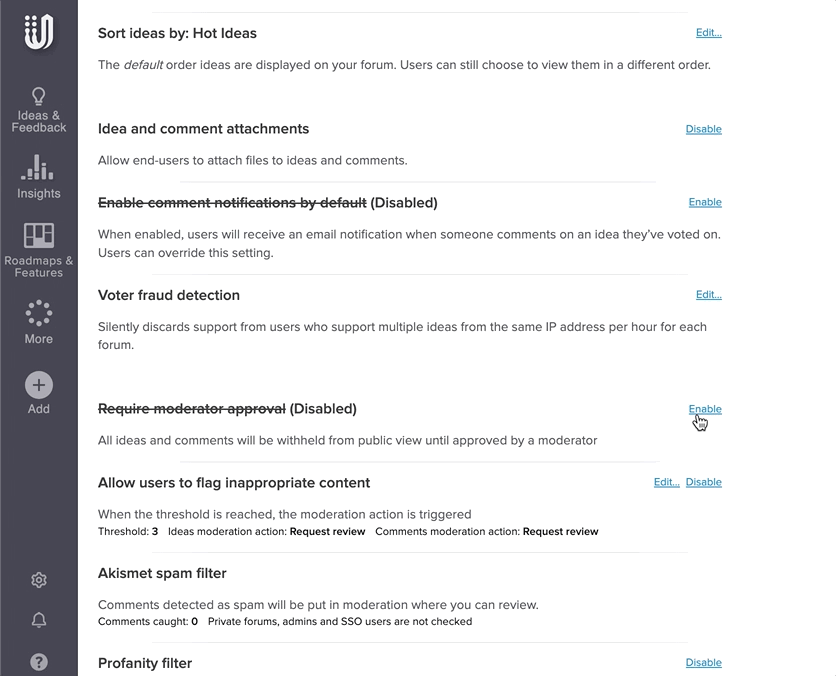 How do I get notified of new ideas and comments?
Click your profile picture found in the lower-left corner → Click Email Subscriptions → You'll see the option to turn on notifications for moderation requests.
You'll also see an orange number on the Activity & moderation tab on the Ideas page to let you know you have ideas for review.
Can I turn on moderation for only one forum?
Managing ideas and comments held for moderation
Your filters are all set. Now you just need to moderate the ideas and comments that have been flagged or held for moderation.
In the left-side navigation, click Ideas & Feedback.
Select All Activity.

Or on the Idea grid, toggle the button in the top-left corner

On the Activity view, check the box next to Needs Review to see items awaiting moderation approval.
Now you'll see a list of ideas and comments awaiting approval. You can easily approve, reply, edit, delete, or merge the idea.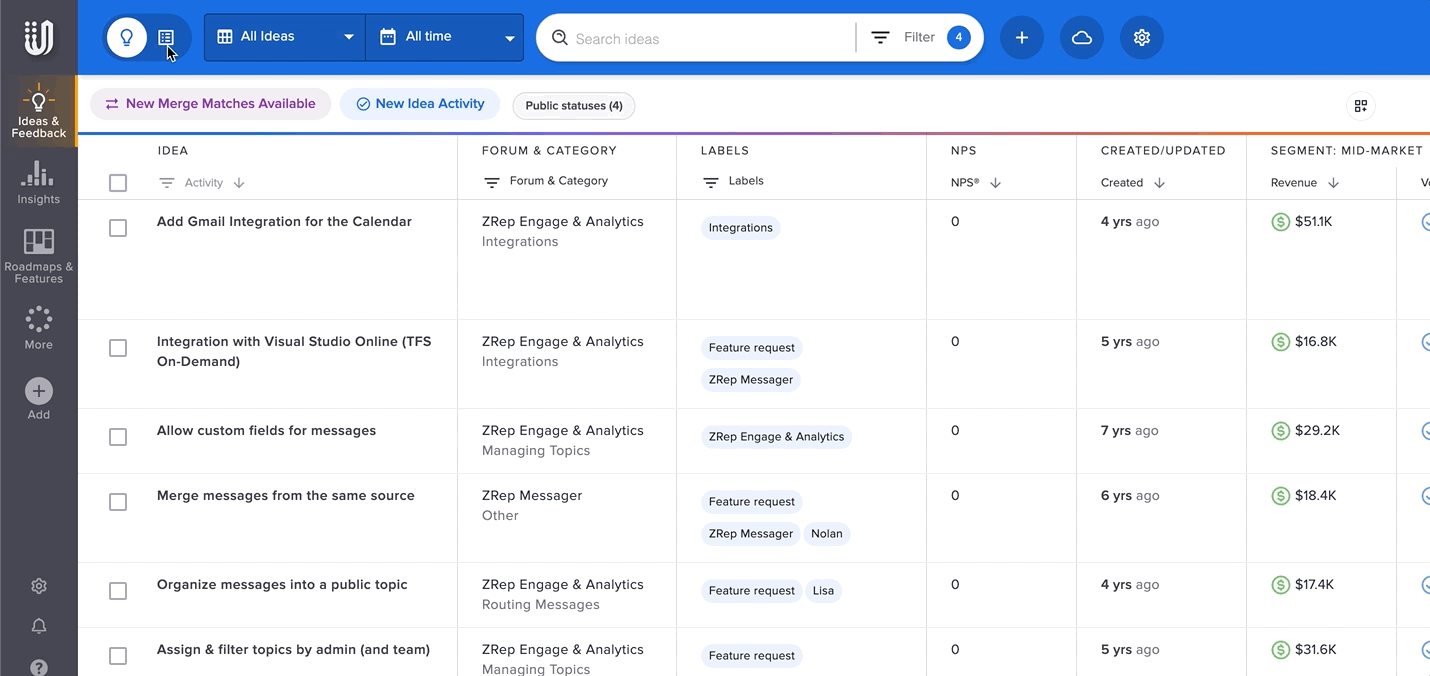 Common Questions
Q: How do I see ideas held for moderation for a single forum?
A:
In the left-side navigation, click
Ideas & Feedback
→
Ideas by Forum
→ Click into the forum of your choice → Click the
Related
a
ctivity & Moderation
tab (next to
Ideas
).
Q: Can I crowdsource moderation?
A: You can allow your end-users to flag inappropriate content. Learn more about this feature
here.
Q: Why are my contributor's ideas not being held for moderation?
A: Since contributors are a licensed user, moderation does not apply to their ideas.