This is available in UserVoice Discovery.

Not included in your plan? Want to learn more about the benefits? Leave us a message! If you're viewing this on our Help Center, click the Support bubble in the lower-right of this page.
Are you a Product Manager or Product Owner? This guide is for you! We'll walk through how to use UserVoice to analyze feedback, prioritize effectively, and close the loop with stakeholders. If you're just getting started and you're looking for a more general setup guide, see this article. If you're a Feedback Manager in charge of maintaining your company's feedback forums, we have a guide for you here.

Intro to UserVoice
Analyze your Feedback
Plan your Roadmap
Sync with Engineering
Communicate with Stakeholders
Intro to UserVoice Discovery
*If this is your first time working in UserVoice we recommend checking out our UserVoice Overview article which will give you some background on the platform and its terminology.

Ideas in UserVoice are user-created ideas that are posted to a forum where other users can vote and comment. You can manage your forums from the admin console at yoursubdomain.uservoice.com/admin.

To view your ideas, click the lightbulb icon in the left-hand menu of the admin console. You'll see your individual forums and an option to view "All open ideas".

Saved Views: We recommend setting up at least one Saved View which will make it easier to monitor the ideas you want to focus on. You can filter ideas by forum, category, label, internal status, public status (premium plan), and customer activity. Use the filters to narrow down your selection, then click the "+" icon in the top menu. This will save your current filters as a new view for easy access. You can also subscribe to notifications for activity within your view.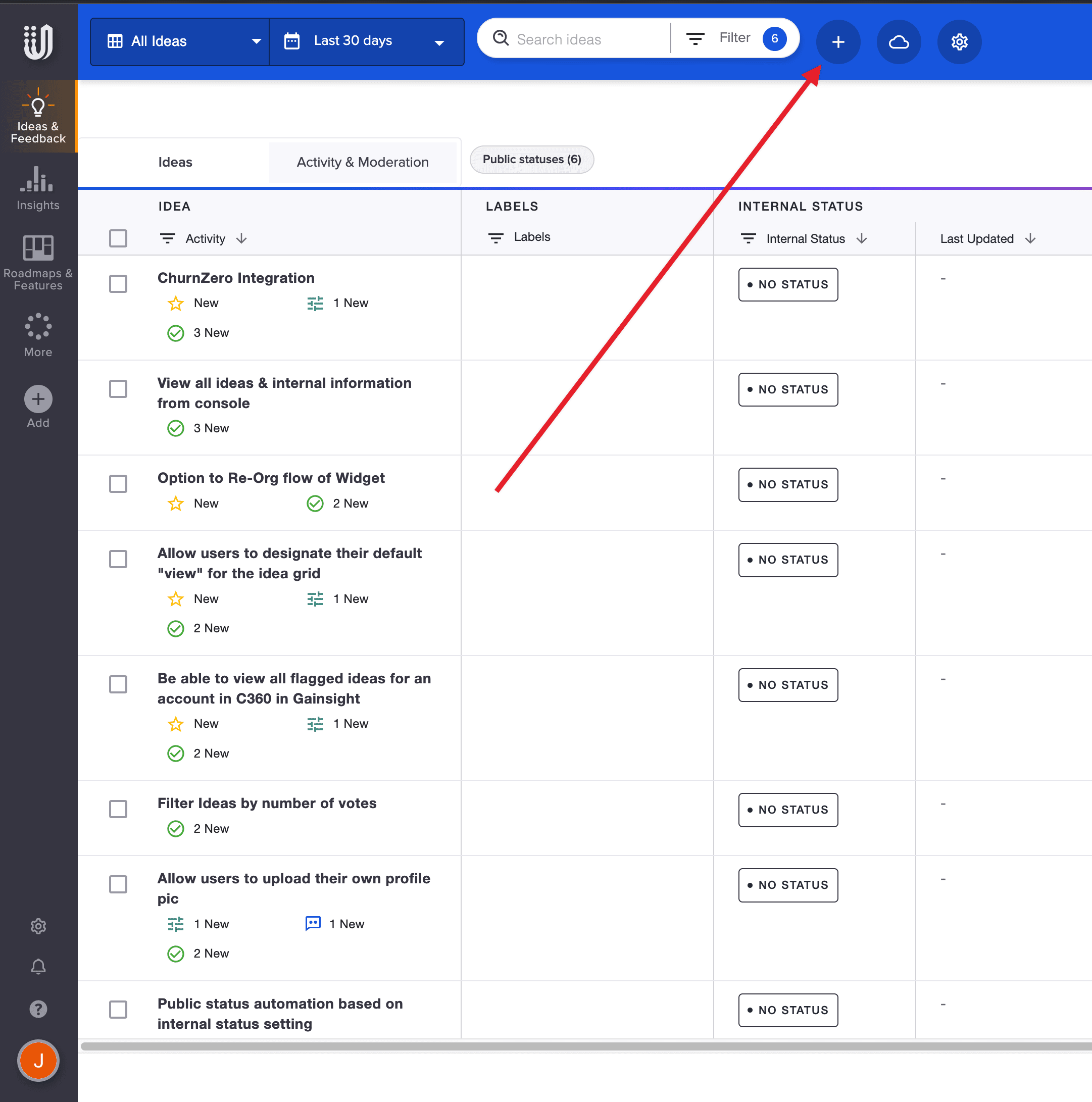 Analyze your Feedback
A big part of your role as a Product Manager is understanding the customer and what they want. UserVoice can help you gain insights into your users' needs and analyze them in the context of your company goals and objectives. We'll walk through how to do this.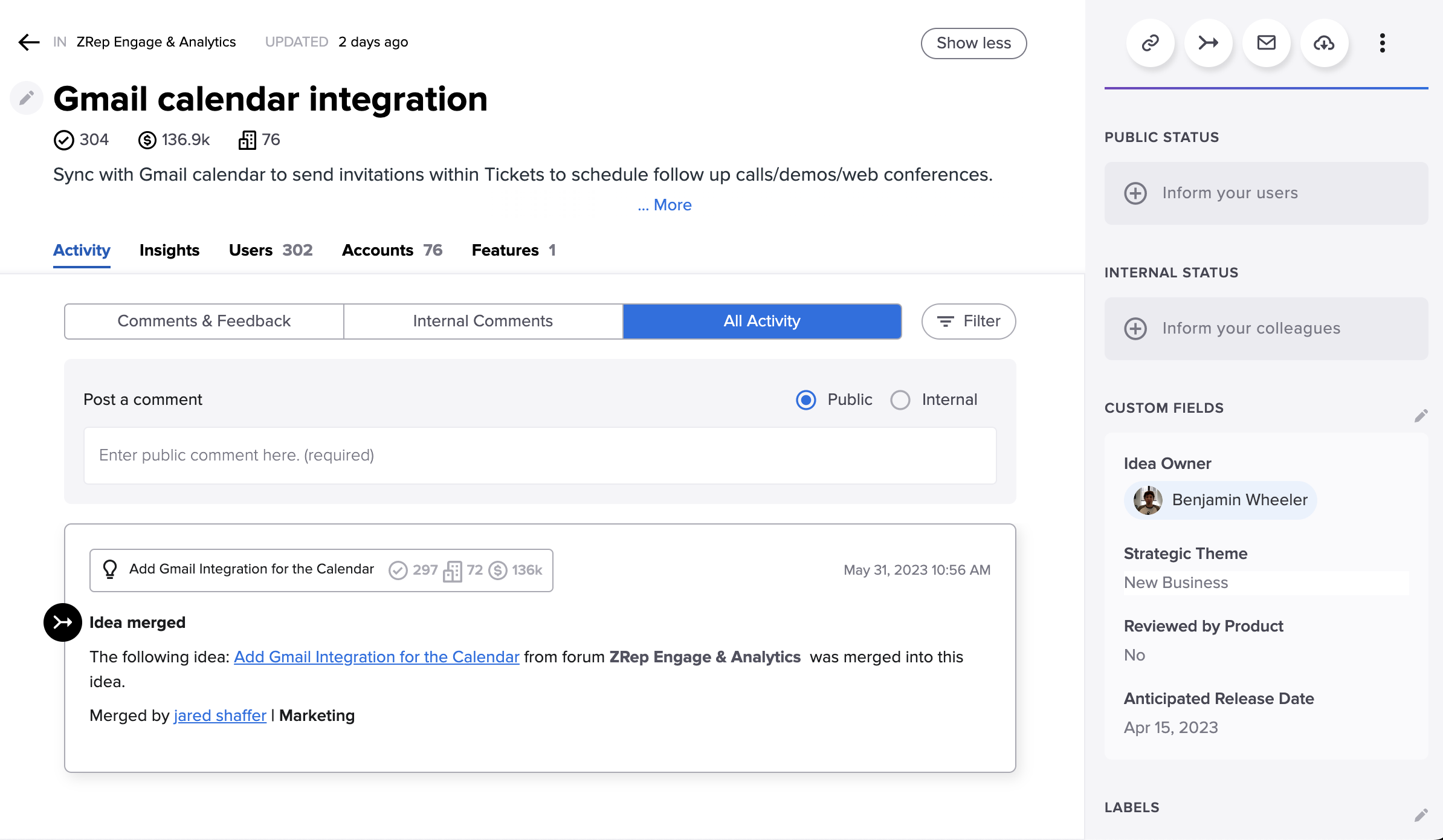 Number of Voters: Look at the number of users who have requested ideas either directly by creating or voting on the idea, or indirectly when Sales or Support captures their support for the idea.


Qualitative Feedback: The title of an idea may not always address the root problem you want to solve. You can find valuable customer sentiment in the qualitative feedback and comments that are linked to an idea. If your organization is using our Contributor Sidebar, your internal teams will be capturing qualitative feedback on ideas. Click on an idea to view its activity stream and find those deeper insights.


Import User and Account Data (premium plan): To get the full picture of your user feedback and its potential impact on your business, we recommend adding your User and Account data to UserVoice. This allows you to analyze feedback based on factors like Revenue, plan level, or customer type. Learn more.


Idea Segmentation (premium plan): You need to know not only what users are asking for, but who those users are and what they mean to your business. Idea segmentation lets you evaluate ideas based on criteria that you define so that you can filter signal from noise. Learn more.
Plan your Roadmap
As you define and execute product strategy, UserVoice Discovery can help you backup your decisions with data to get buy-in from leadership and other teams. Use our Roadmap tool (pro and premium plans) to prioritize and track planned functionality and see all users who have given related feedback.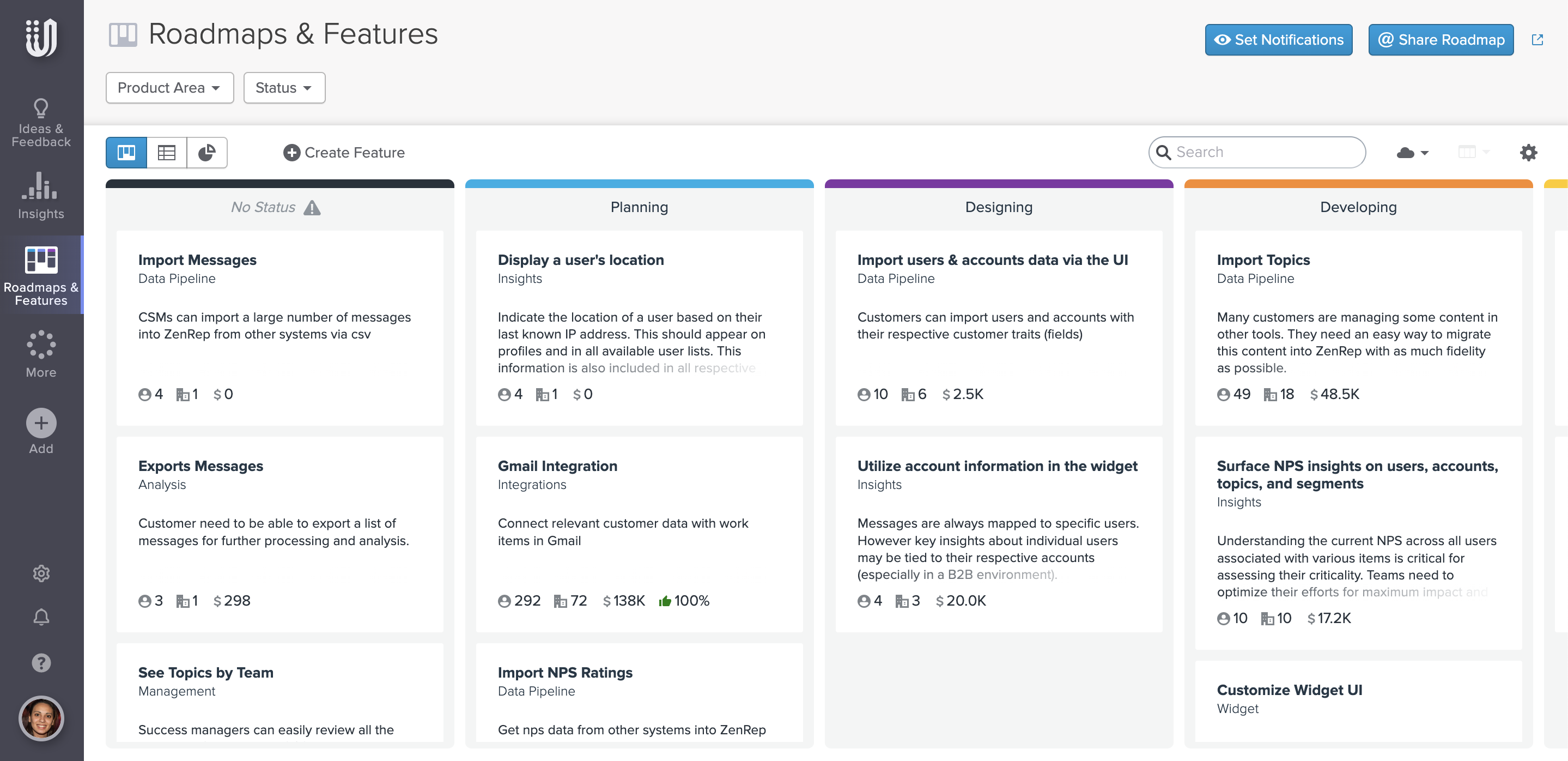 Sync with Engineering
JIRA Integration (premium plan): Connect Features and Idea\s in UserVoice to specific engineering tasks in Jira. This allows you to see statuses at a glance and keep development efforts in sync. Learn more.


Azure DevOps Integration (premium plan): Connect Features and Ideas in UserVoice to specific engineering tasks in Azure DevOps/VSTS. This allows you to see statuses at a glance and keep development efforts in sync. Learn more.
Communicate with Stakeholders
To close the feedback loop, you can use UserVoice to keep internal and external stakeholders updated on the status of their feedback. Internal teams operate more effectively when they have more visibility into what's coming next. Customers will be more likely to contribute feedback when they know it's being heard. Here are some tools you can use to increase transparency and foster alignment with stakeholders.
Share your Internal Roadmap (premium plan): By default, your internal roadmap will only be visible to admins. When you're ready, you can share your roadmap with Contributors and/or authorized email domains. Learn more.


Public Status Updates for Ideas (pro and premium plans): Status updates are an important part of the feedback forums because they close the loop with customers and let them know you're listening. You can post a status like "Under Review" or "Completed" to let your users know where the idea stands. Even if you don't plan to build what they want, it's crucial to make them feel heard so they will remain loyal and engaged. Learn more.


Internal Status Updates for Ideas: Encourage engagement and keep your internal teams in the loop by sending internal-only status updates on Ideas. You can use these updates to provide context as to why an idea is or is not being worked on. You can also use them to ask customer-facing teams to collect specific info from users. Learn more.